Posted by
Paul Murray
on
Monday Aug 20, 2012
Under
Company News
Southern Outdoor Cinema brought the big screen to the small screen for the Oprah Winfrey Network's new reality tv show "Lovetown USA." The tv show was filmed in late spring in Kingsland, Georgia.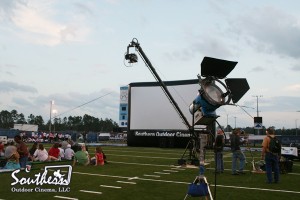 About the show
After a nationwide search, Oprah Winfrey chose Kingsland, Georgia, to be transformed into Lovetown, USA. Oprah launched the first-of-its-kind social experiment by traveling to Georgia, where she called the community to action at a "love rally" and challenged everyone to "open their arms and hearts to the possibilities of all kinds of love." She has charged two experienced relationship coaches—Paul Carrick Brunson and Kailen Rosenberg—with the daunting task of transforming Kingsland in 30 short days.
Over the course of a month, Paul and Kailen will attempt to mend relationships of embattled friends and lovers—young and old—and find true love for singles. This social experiment, which involves everyone from government officials to grade school students, will examine how love, grace, kindness and forgiveness can affect an entire community.
Southern Outdoor Cinema's featured on the show
For a segment of the tv show that involving a community / date night, Southern Outdoor Cinema produced an outdoor movie night on the town's football field. Southern Outdoor Cinema's crews setup a giant three-story tall Airscreen inflatable movie with digital projectors and cinema sound systems. The participants of the reality tv show enjoyed a picnic dinner while watching a Hollywood blockbuster film outdoors and under the stars.
The segment featuring Southern Outdoor Cinema's outdoor movie setup will air in the television show "Lovetown USA" on OWN in August 2012.
All Rights Reserved
Southern Outdoor Cinema
Comments
comments