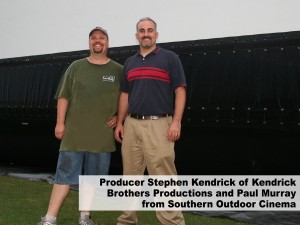 There has been a lot of talk about made in Georgia movies lately. Many well-known movies have been filmed in Georgia over the past several years. Four successful made in Georgia movies were produced by a unique production company, Sherwood Pictures, a ministry of Sherwood Baptist Church. Sherwood Pictures, located in Albany, Georgia, has been involved in this made in Georgia trend since 2003 when the movie "Flywheel" was released.
Alex Kendrick founded Sherwood Pictures, and, with the help of his brother, Stephen Kendrick, produced four successful Christian films between 2003 and 2011. The first movie, "Flywheel," is about an untrustworthy businessman who is struggling with his business and customers as well as his family. He turns to God and turns his life around by the end of the movie. This movie was produced on a very small budget, but still managed to earn more than $37,000 in theaters. In addition, several hundred thousand copies of the DVD have been sold.
"Facing the Giants," released in 2006, is the story of a struggling high school football coach. When he turns to God he is able to overcome his professional and personal problems. This movie was also shot on a small budget, in fact real high school football teams were used for filming.
The movie "Fireproof" also features a man struggling in his life. In this case a firefighter, Caleb Holt, is struggling in his marriage. With the threat of divorce, his father leads Caleb to God through a book and Caleb and his wife are able to save their marriage with the help of God.
"Courageous" was the most successful as well the most expensive film to produce for Sherwood Pictures. In "Courageous," a group of police officers seek the help of God to become better parents.
All four of these films feature a similar main theme: men seeking and receiving God's help in their personal and professional lives. With each movie the small production company enjoyed increased success. Although Sherwood pictures started with very small budgets, especially for the first film, "Flywheel," the movies have earned a large amount at the box office when compared to their budgets.
Sherwood Baptist Church benefited financially from this venture, and Alex and Stephen Kendrick benefited professionally. The pair recently announced that they would be separating from Sherwood Pictures to form their own, independent production company, Kendrick Brothers Productions. The Kendrick brothers will continue producing Christian films and the two remain members and associate pastors at Sherwood Baptist Church.
All Rights Reserved
Southern Outdoor Cinema, LLC
__________________________________
About Southern Outdoor Cinema
Southern Outdoor Cinema takes the stress and guess work out of hosting a movie theater-quality event outdoors and under the stars. Southern Outdoor Cinema doesn't just rent movie screen equipment, but instead we share nearly a decade of movie event production experience with our clients to help them produce outdoor movie nights that are extraordinary. For a free consultation contact Southern Outdoor Cinema at www.SouthernOutdoorCinema.com
Comments
comments