Posted by
Paul Murray
on
Thursday May 24, 2012
Under
Tips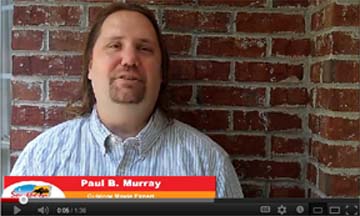 Today I want to talk to you about preparing your viewing area. One thing you want to do is make sure you check your area for any fire ant mounds before the night of the event. Last thing you want is people coming in, putting blankets down and finding fire ants a few minutes later.
Know your Viewing Area
Next thing you want to do is if you are in a grassy area, make sure the grass is short, so that people people coming in do feel comfortable putting their blankets in the grass. If you're in a parking lot or another hard top surface, remind your audience to bring lawn chairs. Also make sure that you ask them to bring low back lawn chairs so they don't block the person in front and behind them.
Preparing the Movie Viewing Area
Also make sure that are any overhead lights that you can turn off, turn those off. People don't want to actually be in a spotlight while watching the movie and it will help the image quality on the screen a little bit as well. Also, make sure if there are any water sprinklers in your area, whether it be grass or if you are in a parking lot the grass nearby Last thing you want is water sprinklers coming on during the middle of the movie. It has happened a couple times to our company, you really don't want it.
All Rights Reserved
Copyright 2002-2012
Southern Outdoor Cinema
###
Want to use this article on your website or your own blog? No problem! But here's what you MUST include:
Southern Outdoor Cinema is the largest producer of PREMIUM outdoor movie events in the country. They are leading the industry with NEW & UNIQUE outdoor movie events. To begin planning your outdoor movie event contact Southern Outdoor Cinema at www.SouthernOutdoorCinema.com or visit their online photo gallery at www.facebook.com/SouthernOutdoorCinema for event ideas.

Comments
comments