Posted by
Paul Murray
on
Thursday May 17, 2012
Under
Tips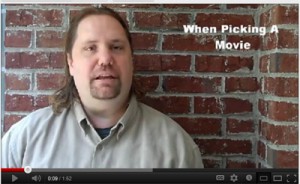 Today I want to talk to you about picking your movie for your outdoor movie event. When picking a movie, you should not pick a favorite necessarily, but a movie that will appeal to your entire crowd.
Know the content of your movie.
Some movies that you may remember seeing as you were younger, may be PG if they were made in the eighties, may contain a lot of cursing, a lot of innuendos and actually some nudity. So make sure you know the content of the movie before you actually show
it.
Offer a choice to your organization, your school, your church, your league, and have them vote on what movie they want to see. When they get a lot more input into the movie they feel part of the event, they're more than likely going to come out to the event.
Consider theming your event.
An outdoor movie by the pool, known as a dive-in, you could have a movie like Alvin and the Chipmunks' Chipwrecked. and then theme the movie with tiki torches, and rafts in
the pool, slushy machines.
If you want some more ideas, On theming your outdoor movie event, check out our Pinterest boards.
Also consider matching a movie to the occasion. If you're doing something for a football league, consider doing a football movie on a football field. Consider doing something like the Blindside or radio, or If you're doing a baseball theme event, consider doing Field of Dreams and putting it out on a baseball field.
All Rights Reserved
Copyright 2002-2012
Southern Outdoor Cinema
###
Want to use this article on your website or your own blog? No problem! But here's what you MUST include:
Southern Outdoor Cinema is the largest producer of PREMIUM outdoor movie events in the country. They are leading the industry with NEW & UNIQUE outdoor movie events. To begin planning your outdoor movie event contact Southern Outdoor Cinema at www.SouthernOutdoorCinema.com or visit their online photo gallery at www.facebook.com/SouthernOutdoorCinema for event ideas.

Comments
comments