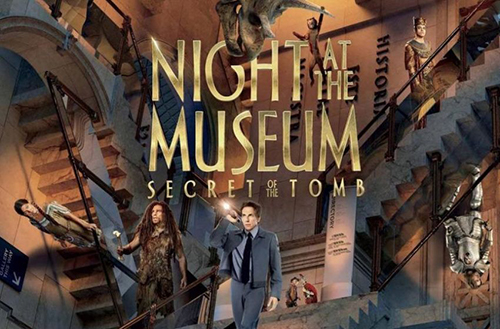 Night at the Museum 3 is Twentieth Century Fox's continued tale of Larry and his museum adventures. Just when it seems there will be an end to the magical nights in the New York City museum, Larry the security guard is once again called into action in a London museum. The movie is rated PG due to rude humor, mild action, and brief language. Directed by Shawn Levy, the cast includes Robin Williams, Dan Stevens, Ben Stiller, and Rebel Wilson.
In this film, Larry has returned to his job as a security guard in the American Museum of Natural History found in New York City. A single Dad, he is put in charge of operations during the night. He has also worked on an evening show to help raise awareness of the new planetarium. The highlight is the special effects. The special effects are the exhibits coming to life. Dr. McPhee, the museum's director, doesn't know they really are alive. The show has an amazing start, but once the golden tablet that brings them to life begins to deteriorate, things go sour.
To fix this problem before they all change back to plastic and wax, Larry, his son Nick, and Ahkmenrah travel to the British Museum of Natural History with the golden tablet. The beloved characters from previous Night at the Museum movies also manage to come along. When Larry opens up the crate holding the prince and his tablet he finds a big surprise, Dexter, Attila the Hun, Sacajawea, Jedediah, Teddy Roosevelt, and Octavius. He also finds a Neanderthal has come along as well.
This group coming to the British Museum opens up the opportunity to introduce many new characters. Among these are Sir Lancelot and a female security guard named Tilly who is starved for affection. Otherwise the action-filled plot of this film is not so different from previous Night at the Museum movies. Scenes contain plenty of mad capers and slapstick humor.
This finale to the series ends with a tender farewell to the group of historical figures we all have come to know so well. In a scene between Teddy Roosevelt and Larry, the president announces "it is time to let him go" as he mounts his horse one last time. It serves as a tender tribute to the memory of Robin Williams who plays Roosevelt.
Positive Element
The main theme of this film is to show children that our world is filled with things to learn about. It also tries to impress upon them that you just never know what you'll discover when visiting a museum.
The historical characters are shown making personal sacrifices for their fellow companions. Even when the result will be that they can no longer come to life, they still choose others over themselves.
As a father, Larry is seen giving advice to his graduating son. He doesn't always agree with Nick's choices, but he backs off and supports his son no matter what he decides. Larry has conversations with the historical characters where he describes how important it is to stay connected with your children. He also talks about the difficulties involved in letting them go once they're grown.
Sexual Element
One man makes some mildly suggestive remarks about the other man. The female security guard is shown flirting with men. A monkey and a man kiss each other on the mouth.
Violent Element
A male character attacks a young boy. There are animals that run wild during a benefit dinner. Things are started on fire by the characters. One man ends up shocking himself with a defibrillator, and another one uses it on a beast to kill it.
Characters are chased by flowing lava. One male uses his sword to ward off his attacker. A man ends up electrocuted while another one receives a hit on the head from a hammer. One man uses weapons to threaten others.
Drug and Alcohol Element
There is no drug or alcohol use in this movie, but other concerns include language such as name calling and mild profanity. There are several jokes made in regards to urination and defecation including a scene where a monkey is shown urinating on two men.
Conclusion
Night at the Museum 3 continues the antics of the characters we have come to love in the previous films. Larry is back as the one trying to resume control, only this time they are in a new location. Placing the characters in a new setting such as London opened up new opportunities for story lines along with the addition of new characters.
Parents will have few concerns when taking their children to see this film. Although it does contain mild action, some violence, and sexual elements, all are done in a subtle and humorous way. The slapstick humor remains entertaining for all ages.
The morals that come through in this movie enforce positive feelings towards family and friendship. Characters work together to help each other, always placing those around them first. The bond between parent and child is also portrayed in a positive light as the film explores the difficulties in watching one's child grow and become more independent.
____________________
All Rights Reserved
Southern Outdoor Cinema
About Paul B. Murray
Paul is founder of Southern Outdoor Cinema, a rental company for outdoor movie nights and a dad of 2 pre-teen girls. When he is not traveling the South creating outdoor movie nights for communities and schools, he is spending time playing board games, reading books and watching movies with his family.
Comments
comments