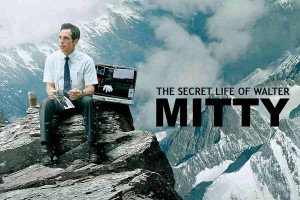 Walter is an imaginative character living a very imaginative life, for the most part. His reality is a life caring for his aging mother, and working for LIFE Magazine as a negative asset manager. The adventures that he lives through his imagination, however, are adventures that he would much rather be living in reality from day to day. He is quiet, hard working, focused and altogether unhappy.
There are many-a-days that Walter catches himself drifting off into a totally different world. The only problem is that this world is always in his imagination. It is just that Walter wishes so badly for more in his life that his wishes become reality in his imagination alone.
The majority of Walters imaginative adventures consist of him being the hero that he so badly wants to be. He is usually jumping into action, defending those who need defending. He is brave, strong and capable in his imagination, and longs for this to be his reality.
Walter really does enjoy his job at LIFE Magazine, developing photographs taken by some of the greatest photographers in the world. He does, however, feel like an absolute nobody compared to each and every one of them. To make things even worse, the cover photo for the final print edition of the magazine goes missing, and everyone is putting the blame on Walter. People are being fired by the handful, because the magazine is going totally online, and he must find the photo quick.
Walter decides that the best thing to do is to search for the photograph himself. His thinking is that he must be sure that he even turned over the negative to begin with. The only problem is that the rest of the pictures on the roll of film suggest that the person Walter must find is somewhere in the Himalayas, or Greenland, or somewhere out there in that neck of the woods. And if that weren't bad enough, Walter realizes that he hasn't been more than 50 miles away from home, ever!
A decision is made and Walter comes to the conclusion that he is going to have to do whatever it takes to solve the mystery of the missing photograph.
Positive Elements
Walter mentions the fact that he had a very difficult time after his father died. He had to make a choice, and that choice was to set his future plans aside so that he could help his mother support the family. It was because of that choice that his family stayed so close throughout his lifetime.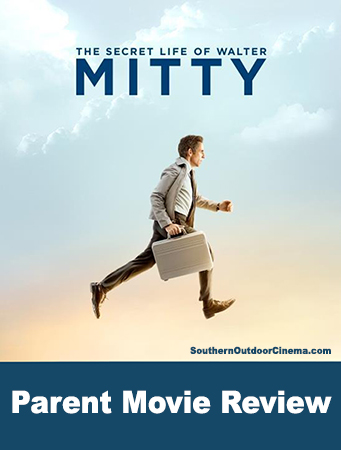 As a result of Walters search for the photographer, he begins living out his imaginative adventures in real life. He has an opportunity to jump into the ocean from a helicopter while he is in Greenland, skateboard directly towards a volcano that is literally erupting and swim with real live sharks. It is through each of these adventures that Walter comes to truly cherish life rather than to fear it.
While with the photographer (O'Connell), Walter learns an even more important life lesson. It is when O'Connell passes up on an opportunity to photograph a live snow leopard, so that he can simply gaze at its beauty instead, that Walter realizes that life is more about appreciating those special moments. That is when Walter begins to look at life in a totally different way.
After O'Connell gives Walter an imprinted, handmade, wallet that says something that has a big impact on him, he finds the courage to approach his boss and stand up for everyone that he treats as if they were unimportant.
Walter begins to care for a single mother, and co-worker, by the name of Cheryl. He develops a sincere, and nurturing, relationship with her that continues to grow.
Violent Elements
While Walter is jumping from the helicopter, into the ocean, he barely escapes being eaten by a shark. He comes very close to being overwhelmed by the ashes of the erupting volcano. Walter also comes very close to getting into a fight at a bar, and cuts his forehead when he slams into a road sign while riding a bike one day.
Walter and his boss experience a hero/villain battle during one of his adventurous daydreams. In it, they crash to the street, only after going through an elevator's plate glass window. He has a near death experience, while jumping into a burning building to save another person's pet in another one of his imaginative adventures.
Drug and Alcohol Elements
There is a scene while Mitty is in Greenland, where a group of men are in a local area bar drinking beer and getting quite drunk. The pilot of the helicopter happens to be one of the men in the group, and he jumps into the helicopter while drunk to fly the helicopter. Mitty makes a bad decision and climbs into the helicopter, as well, deciding that it is his only choice.
Conclusion
The primary lesson here is one that many would find very valuable indeed. There are quite a few individuals who find themselves in the very same boat that Mitty found himself in, daydreaming about a life worth living rather than living it instead. Living a life full of adventure doesn't always have to equate to being the hero on a daily basis, jumping from helicopters and burning buildings. It can rather equate to being the hero that makes the decision to care for his family or the decision to care for the single mother in need of help.
Life doesn't always have to consist of hustle and bustle. In fact, it should be more about those single, special moments that would easily pass us by had we not been sitting quiet and still, waiting to notice them to begin with. Mitty shows us that we should cherish the small moments, as well as those around us, as if they were the blessings that they truly are.
The Secret Life of Walter Mitty is a movie that begins by showing us the life that many of us face each day, but ends by showing us the life that many would be much better of living in the end. It is full of surprises and is one that is actually extremely positive in nature.

____________________
All Rights Reserved
Southern Outdoor Cinema
About Paul B. Murray
Paul is founder of Southern Outdoor Cinema, an outdoor cinema event production company based in Atlanta and a dad to 2 pre-teen girls. When he is is not traveling to create outdoor movie nights for communities, he is spending time playing board games, reading books and of course watching movies with his girls.
Comments
comments