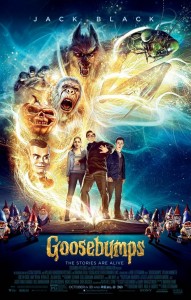 Parent Movie Review: Goosebumps
R.L. Stine has made a good fortune and a dedicated young adult base of fans from his Goosebumps series of books which were introduced in 1992. After all of these years of selling more than 350 million books in 32 languages the series has finally made it to the movie theater. The movies stars Jack Black as R.L. Stine himself and has received fair reviews across the spectrum and has received a PG rating which makes it a worthwhile view by families with small children. There are some elements which could be unsuitable to parents and those will be explored here.
The story centers around a main character named Zach Cooper who deals with a common theme of moving to a big city after growing up in a small town. Dylan Minnette plays the role well as the story eventually reveals that the move carries both positive and negative aspects as do most life changes. He finds romance and friendship in a neighbor named Hannah whose father is R.L. Stine. The monsters which the author has been creating turn out to be more than imaginary and these characters must bond together in order to place the monsters back into the books.
Fans of the books will recognize some of the most famous titles which are locked in a mysterious bookcase in the house of neighbor Mr. Shivers who is ultimately revealed to be R.L. Stine. Popular books such as The Scarecrow Walks at Midnight and The Abominable Snowman of Pasadena all become elements of the movie as the monsters like the Abominable Snowman are chased in order to return them to the pages of the books in which they were written.
Positive Elements
The movie adeptly dresses the uncertainty of life changes such as relocation and shows that courage can turn even a seemingly sad situation in to a great experience. This is tied in with a lesson on defending the innocent as Zach looks to rescue Hannah from inappropriate attacks even if the situation is not what it quite seems on the surface. He is shown making both good decisions such as contacting the authorities who can better assess the situation as well as bad decisions such as taking the matter into his own hands and breaking into the house.
The story incites the imaginations of young viewers as they are taught that courage in spite of the circumstance can birth heroic actions which they may not have known that they were capable of accomplishing. This is also brought to further fruition through the teamwork which is necessary in order for the monsters to be placed back into a place which keeps those around safe. In some ways it is also a touching story about a man (R.L. Stine) who takes the father role for Zach who was prompted to move by the passing of his own dad.
Sexual Content
Champ is the other member of the posse as he becomes an instant close companion to Zach. The movie includes a scene where Champ asks for Zach to go to a dance but not like "together, together" which has some undertones of homosexuality thought. Hanna and Zach also eventually share a couple of kisses before it is all over, one of these being a reward for saving her from a werewolf.
Unfortunately, Hollywood has decided it funny to confuse the word audiophile and pedophile. Also, there is a character named Lorainne who is on the mission to find a man and this leads her to ask if a potential target is going to be leaving his wife. This lack of honor by her towards marriage is definitely not something that Christians would want their children to pick up on. Overall, the sexual content is light and these small issues could be easily addressed by parents if need be.
Violent Content
There is a definite Halloween overtone to the Goosebumps film and there is quite a bit of action as the team of characters looks to recapture the monsters. Sir Snowman wreaks havoc on an ice rink before he is able to be tamed and he chases the teens attempting to hit them. There is a giant praying mantis which runs around in a violent manner and eventually ends up placing a teen in a neck brace by snatching him through a window. Slappy leads the horde of monsters to the dance after breaking R.L. Stine's fingers in a typewriter. Once at the school, the monsters proceed to send most of the students running for cover before the finale. That finale is explosive and ooze-filled, but overall the content of the movie is quite tame and not too realistic. The actions of the monsters and their pursuers are mostly set to heighten the suspense of the film rather than to glorify violence itself. Any parent who has read some of the novels will already be familiar with this type of action and will probably not be too concerned about their children watching this.
Drug And Alcohol Content
The movie has no content related to drugs and alcohol.
R.L. Stine understands his audience and for that reason has always sought to scare rather than traumatize those children who best love his work. This means that the movie includes no blood or any gore which has been seen in some other similarly targeted films. This is an exciting movie which should definitely bring satisfaction to any of the author's fans and leave them waiting for a sequel.
_____________
All Rights Reserved
Southern Outdoor Cinema
Southern Outdoor Cinema of Atlanta, creates extraordinary outdoor movie events that captures
all the senses of their client's audience while recreating the nostalgic feeling of a close-knit
community gathering.  For a free event consultation contact Southern Outdoor Cinema at www.SouthernOutdoorCinema.com
Comments
comments