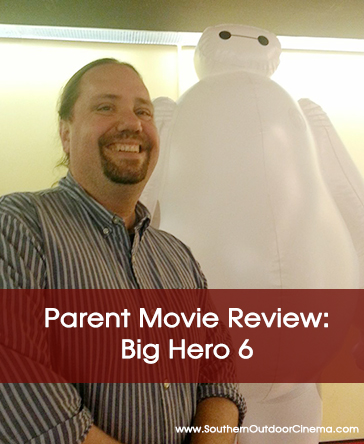 Disney/Pixar has created a superhero movie that is suited to the younger audience members. Compared to live action superhero films, Big Hero 6 is a family friendly movie. It's a story about a young genius named Hiro Hamanda and his best friend who is an inflatable robot called Baymax. When a villain tries to take the duo on, they recruit others to form a team they name Big Hero 6. The movie has a PG rating due to action scenes, peril, and questionable humor content. It's 102 minutes long and directed by Don Hall and Chris Williams. The cast includes Ryan Potter, Scott Adsit, and Jamie Chung.
Hiro has already graduated high school at the young age of 14. He is something of a robotics prodigy who just hasn't found his direction in life. Instead of furthering his education, he decides to make extra money by illegally gambling. He sneaks out of his home during the night to join in on underground robot battles where he places wagers on the outcome of each fight.
His brother is taking a different path. He studies under Professor Robert Callaghan in a robotics program. Tadashi, the brother, tries to inspire Hiro by taking him to school where he can introduce him to the other students. Tadashi also lets Hiro take a peek at his latest invention. This invention is an inflatable robot called Baymax who is designed as a health care companion.
Tadashi loses his life during a fiery explosion. This is when Hiro finds that something from the school has been stolen. Now that it is in criminal hands, Hiro teams up with Baymax and Tadashi's friends to find the villain who now has the item. This becomes the group known as Big Hero 6.
The beginning of the movie introduces viewers to the characters. There is Aunt Cass who looks after Hiro and Tadashi. As with other superhero movies, the team of Big Hero 6 needs to discover all of their superpowers and learn how to work together as a crime-fighting group. Similar to Batman, this team has a butler who helps them perfect their abilities. The scenes where he helps the team along their journey to becoming superheroes are quite enjoyable. The second part of the movie becomes a typical crime-fighting action film that portrays weapons, heroes in peril, and fistfights.
The character of Baymax is quite engaging. He looks similar to the Michelin Man as he is a large white balloon. He has a gentle personality due to the fact that he was designed to take care of others. Baymax is full of personality and heart.
Positive Element
The superhero Baymax has a big heart He is hesitant when it comes to being a crime fighter as he was created to care for other's emotional and physical needs. Children will be able to pick up on this nurturing side of Baymax.
As for Hiro, his loss for direction in life is corrected by his brother who puts him on the right track. Children will be able to watch how this character discovers his purpose in life by setting goals and staying focused. It's a valuable skill many young viewers can benefit from.
Although one character does die in this movie, it is used as a teaching moment. Baymax offers the grieving character suggestions on how to feel better and move through the grieving process.
Sexual Element
There is very little sexual content in this movie. Embracing between characters is shown only briefly.
Violent Element
This movie does contain scenes with frightening images and situations of peril. One man is killed due to a fiery explosion. Hand to hand fighting is done among some characters, and in a superhero context, weapons are used. A young boy engages in illegal gambling and becomes threatened by thugs. During a car chase, characters are seen careening down a road. A few of the scenes may frighten younger children. There is also mild name calling in the script.
Drug and Alcohol Element
As one of the characters suffers from a low battery he acts like he is drunk. In a celebration of a new building opening up, a man is shown raising a glass of champagne as in a toast.
Conclusion
Although Big Hero 6 does contain some questionable scenes, the overall message portrayed by the film is positive. There is a large amount of violence portrayed during the second half of the film, but it is mild compared to live action superhero films. Parents need to take into consideration their child's age and level of tolerance for more intense situations.
Embracing is brief, and the alcohol reference is mild. Young children are not likely to be disturbed by the robot losing battery power, and may not associate it with how an intoxicated character would behave. Once again parents need to take their child's perception of such scenes into consideration before viewing the movie.
The positive message of setting goals in life, overcoming obstacles, and staying focused is excellent. These are skills every child can carry with them throughout life. The grieving process is also shown in a positive light that can help young viewers deal with similar situations found in real life.
____________________
All Rights Reserved
Southern Outdoor Cinema
About Paul B. Murray
Paul is founder of Southern Outdoor Cinema, an outdoor cinema event production company based in Atlanta and a dad to 2 pre-teen girls. When he is is not traveling to create outdoor movie nights for communities, he is spending time playing board games, reading books and of course watching movies with his girls.
Comments
comments