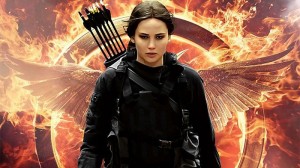 "Hunger Games: MockingJay Part 2" is the last film in the series of films based on the science fiction trilogy written by Suzanne Collins. The film was directed by Francis Lawrence and stars Jennifer Lawrence, Josh Hutchinson, Liam Hemsworth, Woody Harrelson, Elizabeth Banks, Julianne Moore, Phillip Seymour Hoffman, Sam Claflin, Donald Sutherland, and many more. Katniss (Lawrence) becomes the symbol of hope and strength for the people in the districts and the soldiers waging war against President Snow (Sutherland) under the leadership of President Coin (Moore). This war comes after Katniss' defiance and escape from the dreaded Hunger Games. Katniss along with Gale, Peeta, Finnick, and other loyal friends travel to the capital with one objective, to kill Snow. The story takes a turn when she realizes that President Coin presents a similar danger to Panem. Nevertheless, Katniss heroically saves the people of Panem, with a selfless act that leads to her imprisonment, but Panem's democracy. This movie hit the theaters on November 20, 2015.
Filming for this movie took place in many places including European cities such as Berlin and Paris but also several locations in the state of Georgia. Principal photography started in Atlanta in September 2013 and filming took place in other cities in the state of Georgia such as Rockmart and Newnan, where the Caldwell Tanks were used. Scenes of the capitol were filmed at the Marriott Marquis in Atlanta on December, 13, 2013. The hotel was used for scenes in which the tributes appeared in their living quarters while in the capital.
One of the most interesting film locations was the setting for President's Snow's mansion and office in the Capital of Panem. For this purpose, the crew and cast spent time filming in the Swan House of the Atlanta History Center, located in Buckland, Atlanta. The Swan House is a historical gem built in the 1920's by a cotton baron. It is designed in Italian and English styles and features exquisite furnishings. The location scouts were drawn in by its elegance. Although there were some changes made for Hollywood effect, many of the original furnishings and objects in the mansion were kept unchanged and appeared as is in the movies. The mansion now features a tour that focuses on the Swan House's role in the Hunger Games trilogy films. The tour is titled "Designing an Executive Mansion" and features photographs of cast and crew during filming as well as objects that can be spotted on the big screen.
If you missed the "Hunger Games: Mocking Jay Part 2" in theaters, catch it on DVD or Blue Ray.
_____________
All Rights Reserved
Southern Outdoor Cinema
Southern Outdoor Cinema of Atlanta, creates extraordinary outdoor movie events that captures
all the senses of their client's audience while recreating the nostalgic feeling of a close-knit
community gathering.  For a free event consultation contact Southern Outdoor Cinema at www.SouthernOutdoorCinema.com
Tags : filmed in georgia, Mockingjay Part 2, southern outdoor cinema, The Hunger Games | Comments Off

on Hunger Games: MockingJay Part 2-Filmed in Georgia