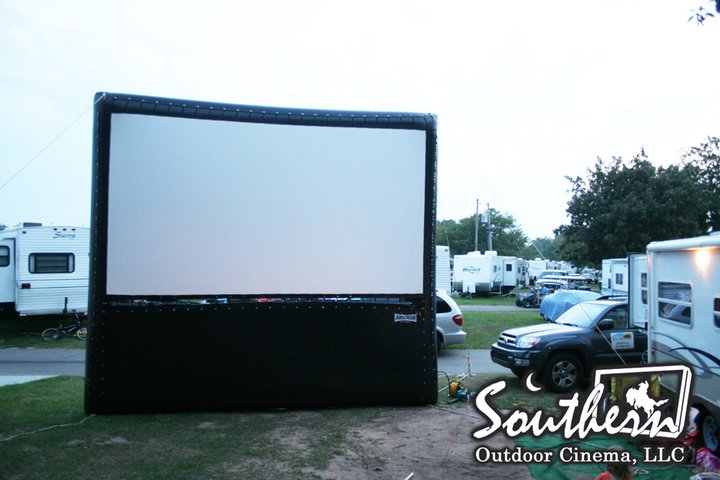 Campfires and s'mores, family movie nights, and time spent with family, friends and neighbors; these are probably some of the ideas that come to mind when you imagine ideal summer nights. An outdoor movie campout takes these family friendly summer activities and combines them into one very special evening. An event like this might be hosted by a neighborhood homeowner's association in the amenities area, in a city park or even on the golf course of a country club and can be a great way to get to know your neighbors in a wholesome, family friendly environment.
If you are looking for a way to bring the members of your community together, an outdoor movie campout could be the answer you are looking for. An event like this, that combines a variety of favorite family activities, is a great way to entice people to come out and join the fun. This is not your typical neighborhood block party. An outdoor movie campout combines the newer trend of enjoying outdoor cinema with an old favorite, camping; this combination will appeal to families by bringing back childhood memories of camping trips with friends and family and offering a way for parents to create new memories with their children.
Families can come out before dusk to set up their tent or, depending on the venue, an RV, and get settled in before the movie begins. Instead of traditional movie snacks, guests can indulge in campfire favorites like hot dogs, marshmallows and s'mores while enjoying the movie. Sleeping bags provide a comfortable spot for adults and children to watch the movie and, later, go to sleep in. High quality inflatable screens allow earlier movie start times that are perfect for kid-friendly events like this; the movie can begin early and children can enjoy the movie and campfire fun and still make it into the tent for bed at an appropriate time.
Summer is a wonderful time because warm weather and more free time allows families to make special memories enjoying activities like camping, swimming, outdoor movies and family friendly community events. Neighborhood block parties, outdoor movie nights and community campouts are all wonderful ways to enjoy wholesome fun with your neighbors and friends. An outdoor movie campout is a wonderful way to combine the best of all of these events into a very special evening your whole family can remember fondly for many years.
All Rights Reserved
Copyright 2006-2013
Southern Outdoor Cinema
###
Want to use this article on your website or your own blog? Here's what you MUST include:
Southern Outdoor Cinema is the largest producer of high quality outdoor movie events in the country. We don't just rent inflatable movie screens. Instead SOC shares nearly a decade of expertise with our clients so that they have an EXTRAORDINARY outdoor movie event which is EASY and STRESS-FREE to organize. To begin planning your outdoor movie event contact Southern Outdoor Cinema at www.SouthernOutdoorCinema.com or visit our Facebook page at www.facebook.com/SouthernOutdoorCinema for daily outdoor movie tips.
Comments
comments