Posted by
Paul Murray
on
Wednesday Apr 3, 2013
Under
Tips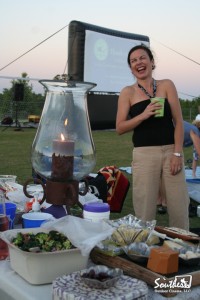 The phrase "movies under the stars" conjures up images of dozens of families bringing out their blankets and snacks to a community park to watch a free flick, generally put on by the city or another large organization.
But who says you can't put this on just for your students and their families?
Sure, parks and recreation departments enjoy our full turnkey event production and theatrical-grade screens. But school administrators can take advantage of our audio/visual services as well and host their own movie night.
Wait. Are those dollar signs floating above your head? Though it may sound like something you'll have to add a line item for in next year's school budget, it can be done with little or no budget set aside.  So what's the secret to hosting an affordable, family-friendly movie event for your students? Event sponsors!
If you've been reading our blog, you already know one great way to help ease the costs of an outdoor (or indoor!) movie is to obtain sponsorships or make the event a fundraiser. It's time to think outside of the popcorn box! (Sorry, had to say it.)
Check out local dance studios, pediatricians, restaurants, particularly businesses near your school. We recommend finding sponsors who market to families with young children. When approaching sponsors, let them know how Southern Outdoor Cinema is a truly unique way to advertise their business:
We have a professional graphic artist on staff who will create artwork for an advertisement to the sponsor's specifications. That means less work for you and for the potential sponsor.
These ads will be up and projecting before the movie begins. The difference between us and other equipment providers is we can have this set up ahead of time, while there is still ambient light. So your sponsor can have their message displayed 20 minutes ahead of time in order to have a sundown start time. (This also means families aren't up late watching the flick and can get your students to bed on time!)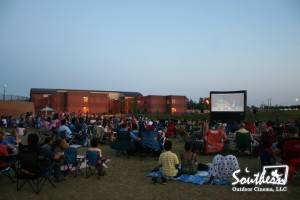 One of our favorite clients had some great tips about using sponsors for their movie events. She said though the slow economy has been an issue with maintaining sponsors, they have used several methods over the years to obtain funds.
"We have offered vendor spots for a flat fee as well as a percentage of sales donation. We also include their logo on the screen prior to the movie, as well as including their logo in our school paper and flyers."
If you need assistance, another part of our unique experience is we can provide marketing materials to present to sponsors and to show off to families. We are with you every step of the event planning process. This isn't something you have to do alone.
Part of the joy we experience in bringing Hollywood to you is helping you create movie magic without any stress. Hopefully these tips will help you with your next sponsored event.
All Rights Reserved
Southern Outdoor Cinema
www.SouthernOutdoorCinema.com
Comments
comments