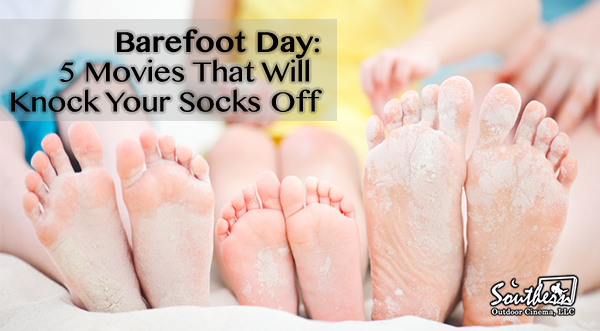 National Barefoot Day is celebrated on June 1st each year and is the perfect day to kick those shoes off and support a charity that is making a difference. Soles4souls.com is the organization that is responsible for the holiday, and its purpose is to provide shoes to those suffering from natural disasters around the world. Since many of these natural disasters occur around beaches, we've put together a short list of movies about beaches along with a brief description of each of them.
Surfs Up
Cody Maverick (Shia LaBeouf) is a determined little penguin with more desire than ability when it comes to riding the waves. Lucky for Cody, he has enough heart to get him surfing like a pro, and just in time for his very first professional competition. Cody knows that he has a lot of work to do if he is going to have any kind of chance at winning the competition but more importantly, he is going to need help. This is where his King Penguin mentor Big Z (Jeff Bridges), and his biggest fan Lani (Zooey Deschanel) come in very handy. You see, Big Z is an ex-surfing legend and Lani is Pen Gu Island's star lifeguard and together they are going to make a professional surfer out of Cody yet.
Nims Island
Nims Island tells the story of Nim, a little girl who finds herself alone on the tropical island that she and her father have been living on together for quite some time. After her father gets stranded by a broken down boat, Nim is forced to fend for herself but that is the least of her worries. Nim finds a tour company on the island and learns that their intentions are to make a number of very undesirable changes to the island which is unacceptable to Nim. She realizes that she will definitely need the help of an adult if she is going to save her island home so Nim reaches out to the author of one of her favorite books. She begins communicating through e-mails and manages to do much more than she had ever imagined possible.
Soul Surfer
Taking the little things for granted is something that a young surfer girl has learned not to do, but only after suffering the loss of one of her arms to a 14 foot tiger shark while surfing one Halloween morning. Soul Surfer tells the story of Bethany (Anna Sophia Robb), a young girl born and raised on the island of Kauai who began surfing at a very young age. Everything changes for Bethany after that tragic Halloween morning as losing the ability to surf is much like losing the ability to live. But giving up is not an option for Bethany and with the help and support of special people in her life like her father Tom (Dennis Quaid), her mother Cheri (Helen Hunt), her best friend Alana (Lorraine Nicholson), and her youth group leader Sara (Carrie Underwood), she is able to learn to surf with just one arm and is able to make her mark, once again, on the surfing world. Soul Surfer is a story of how good things can come out of even the most unimaginable situations, and how anything is possible if we just put everything we have into it.
Cast Away
Chuck Noland (Tom Hanks) is a fairly happy individual living a fairly happy life. He has a good job working as a Federal Express engineer in charge of troubleshooting problems anywhere and everywhere they might come up and he has a girlfriend named Kelly (Helen Hunt) who he proposes to just before leaving on a job related, Christmas Eve assignment. Everything seems to be going perfectly for Chuck right up until the moment that his plane crashes leaving him stranded on a deserted island in the middle of nowhere. His once perfect life comes to an abrupt stop and Chuck must learn to cope with living alone on an island with only the few supplies he is able to gather from the destroyed plane. Time passes and Chuck is left alone for so long that he befriends a volleyball (Wilson – the name on the volleyball) he finds in the rubble. It is this unusual friendship that keeps Chuck going and eventually gives him the courage to do what must be done if he is to ever make it back to civilization again.
Alvin and the Chipmunks: Chipwrecked
Alvin and the Chipmunks: Chipwrecked finds the Chipmunks & Chipettes enjoying a much needed vacation together on a luxury cruise ship. Nothing could be better for the group of happy little chipmunks and they soon turn the entire ship into their own gigantic floating playground. But the unexpected happens and they are left "chipwrecked" on a deserted island, alone and afraid. The chipmunks & chipettes quickly come to terms with their situation and begin searching for a way to get back home. It is during their search that they stumble onto something and find out that the deserted little island that they are on might not be so deserted after all.
__________________________________
About Southern Outdoor Cinema
Southern Outdoor Cinema, LLC, is the LARGEST producer of high quality outdoor movie events in the United States for movie studios, film festivals, marketing agencies, Fortune 500 Companies, schools and cities. Southern Outdoor Cinema produces extraordinary outdoor movie experiences with big screens and bright and colorful images so that your audience members feel like they are at a real Hollywood film premiere. Contact Southern Outdoor Cinema to receive a free consultation for your next special event.
Comments
comments