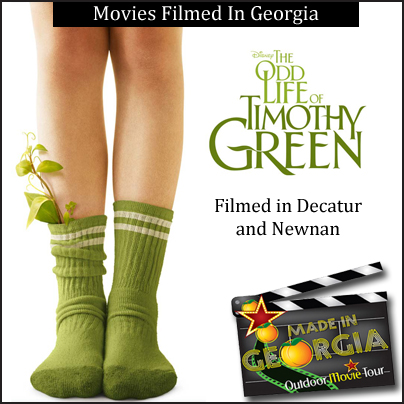 'The Odd Life of Timothy Green' is a 2012 film starring Jennifer Garner and Joel Edgerton. The film follows the story of a couple (played by Garner and Edgerton) who discover they cannot have children and decide to write down all of their wishes of what their child would have been like and put those notes in a box that they then bury in their backyard. After a thunderstorm occurs, a 10-year-old boy, Timothy, appears at their door claiming to be their child. It doesn't take long for them to realize that Timothy is more than just a child, and he ends up changing the lives of many throughout the town. The movie's story was developed by Ahmet Zappa who is the son of legendary guitarist, Frank Zappa, and was adapted into a screenplay by the director, Peter Hedges. 'The Odd Life of Timothy Green' was filmed in several locations in Georgia. Georgia was picked for the majority of filming due to being able to get an autumnal feel, which the script called for, even when filming during the winter months as well as due to the tax incentives offered by the state.
The film spent several months filming in and around metro Atlanta. A film stage in Atlanta is where the set of the interior of the main characters' home was built. In Rex, which is 15 miles south of Atlanta, two of the homes in Druid Hills were used for exterior and interior scenes that stood in for the home of the sister-in-law of Jennifer Garner's character, played by Rosemarie DeWitt. In Canton, north of Atlanta, the Cherokee Arts Center was used to portray the Town Hall for the fictional town of Stanleyville in the film. In Newnan, southwest of Atlanta, in the Greenville-LaGrange Historical District, the Parrott Camp-Trammell house at 155 Greenville Street had several scenes shot there. Greenville Street had to be shut down intermittently during the filming, which did cause some traffic problems. Also, in Newborn, northeast of Atlanta, a house exterior set for the film was built on Broughton Street.
Other Georgia filming locations for 'The Odd Life of Timothy Green' included downtown Dawson that was transformed to look like the film's fictional Stanleyville, the tree-lined Society Street in Albany, and the Birmingham United Methodist Church in Alpharetta. The Stanleyville pencil factory that is part of one of the film's central stories, was created inside an abandoned textile factory in Monroe. In Decatur, the well-known nursery owned by the internationally-known gardener, Ryan Gainey, was used for scenes that involved the main characters visiting their local botanist.
'The Odd Life of Timothy Green' wrapped up filming in January of 2011 and was released in theaters in August of 2012. It is currently available on Blu-ray and DVD.
_____________
All Rights Reserved
Southern Outdoor Cinema
Southern Outdoor Cinema of Atlanta, creates extraordinary outdoor movie events that captures all the senses of their client's audience while recreating the nostalgic feeling of a close knit community gathering. For a free event consultation contact Southern Outdoor Cinema at www.SouthernOutdoorCinema.com
Comments
comments