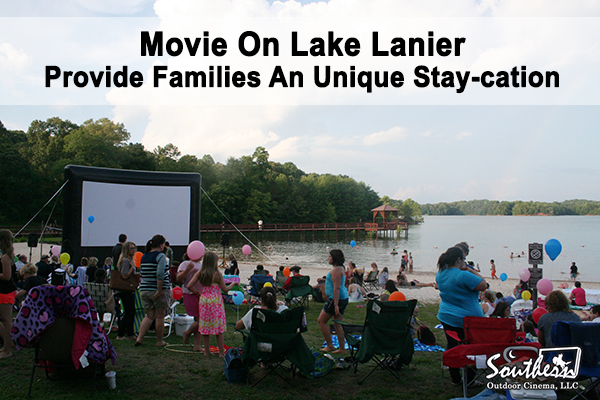 Staycations have become a popular option for families who are looking to save money by keeping close to home without sacrificing fun. The residents of Dawsonville, Georgia and the surrounding communities have found the ideal way to do this by having a "Movies in the Park"" event at War Hill Park each June. Families can play all day, enjoy the sand between their toes while watching a movie, and then spend the night in the campground.
Beach Close to Atlanta
Most people don't even realize there is a beach this close to Atlanta, but Dawsonville is only about a one hour's drive from the city. This is where you'll find War Hill Park. The park is home to Lake Lanier and its surrounding beach. Visitors can go swimming in the lake or choose to take a boat out if they like. The beach itself offers fun for all. It's a terrific place to lie in the sun, play in the sand, or join in a game of beach volley ball.
To make everyone's experience even more special, Dawson County Parks & Recreation has made a tradition of showing movies on the beach each June. Southern Outdoor Cinema setups up a large inflatable screen on the shores of Lake Lanier where families can spread out blankets and set up lawn chairs to enjoy the main feature. It's a great opportunity to gather with friends and family. Best of all, the restless children will have plenty of room to play while waiting for the main attraction.
Family Picnic
As evening approached, War Hill Park was the perfect place for a picnic dinner. There are many picnic tables scattered about the area as well as grills for cooking out on. This made an ideal transition for those who planned on staying for the beach side movie event.
Movie on the Beach
After such a busy day, everyone loved being able to settle down in the evening to watch a movie and enjoy being outdoors relaxing. Many brought snacks and found the outdoor theater a great addition to their staycation activities. A family friendly show was selected so that no one had to be excluded. People of all ages will look forward to doing this again.
Family Camping
Once the movie was over, the fun continued. Families had the option of spending the night at the War Hill Park campground. Each primitive campsite had a fire pit, grill, and lantern hook. There was a bath house with restrooms and showers nearby, and boat ramps on the beach. They had everything to make their camping a pleasant experience.
Locals and visitors alike had a wonderful time at the movies in the park event. It was the perfect way to spend a staycation with friends and loved ones. These families will have memories to last a lifetime, and they will be telling stories about watching movies with the sand between their toes for years to come.
All Rights Reserved
Southern Outdoor Cinema, LLC
__________________________________
About Southern Outdoor Cinema
Southern Outdoor Cinema, LLC, is the LARGEST producer of high quality outdoor movie events in the United States for movie studios, film festivals, marketing agencies, Fortune 500 Companies, schools and cities. Southern Outdoor Cinema produces extraordinary outdoor movie experiences with big screens and bright and colorful images so that your audience members feel like they are at a real Hollywood film premiere. Contact Southern Outdoor Cinema to receive a free consultation for your next special event.
Comments
comments