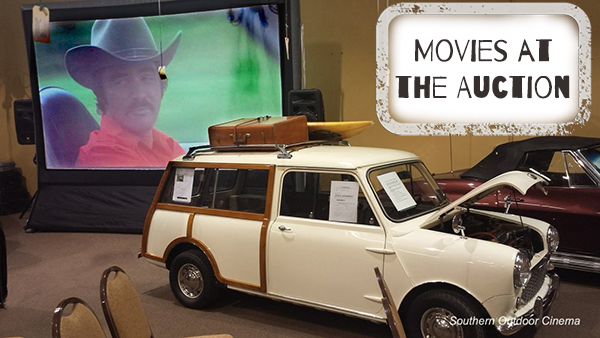 Is there ever a terrible time to sit back and enjoy a terrific movie? The only answer that comes to mind, right about now, would have to be no. The biggest problem, for most people, has always been finding the time to actually get to the movies. Well Southern Outdoor Cinema has taken care of that little problem, once and for all, by bringing the movies to you.
Our inflatable movie screens allow us to provide theater size movie fun wherever, and whenever, the need should arise. Add our newest no-blower movie screen technology to the mix and what you have is the makings for an amazing event. You can now have all of the movie fun with none of the annoying background noise. There is simply no downside to letting Southern Outdoor Cinema provide great entertainment for your next event.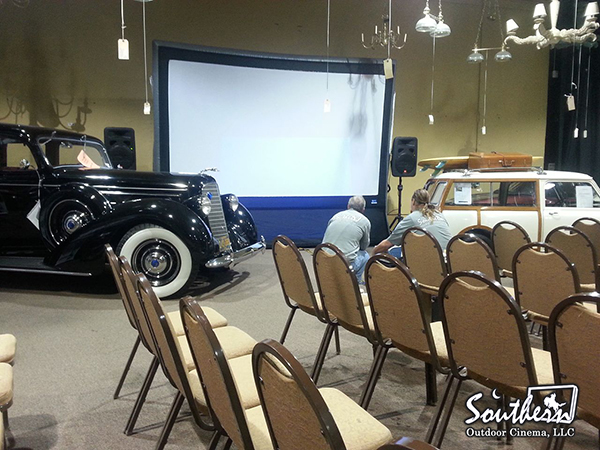 Take the latest auction that we provided movie entertainment for in Atlanta. Simply providing auction guests with a couple of great movies to enjoy between auctions was enough to keep them around for the entire auction. It naturally took time to transition from one auction item to the next (especially when dealing with classic cars), so providing movies like Smokey and the Bandit, and The Gumball Rally were perfect for keeping customers happy while waiting. What it really did was provide the auction company with an increased number of potential buyers, for a longer period of time.
It was a fantastic time, and not just because of all of the great items that were up for auction (although the 1961 Austin Countryman Woody that the inflatable movie screen was set-up next to looked fabulous). It was a fantastic time because of the fact that the auction company provided two great movies for guests to watch between auctions, and Southern Outdoor Cinema was able to help make it happen. It is safe to say that, were it not for the great movies playing between auctions, customers might not have stayed at the auction as long as they ended up staying. That is the reality of just how beneficial it can be to provide movies played on an inflatable movie screen, provided by Southern Outdoor Cinema, at your next event.
The possibilities are truly endless when it comes to providing movies for guests to enjoy at your next event. Our inflatable movie screens come in a variety of different sizes which makes providing movie entertainment for your upcoming event a definite reality. Whether your next event is going to be an indoor event, or an outdoor event, makes no difference whatsoever. The only thing that really matters is that you provide your guests with a great movie to enjoy on an inflatable movie screen, from Southern Outdoor Cinema.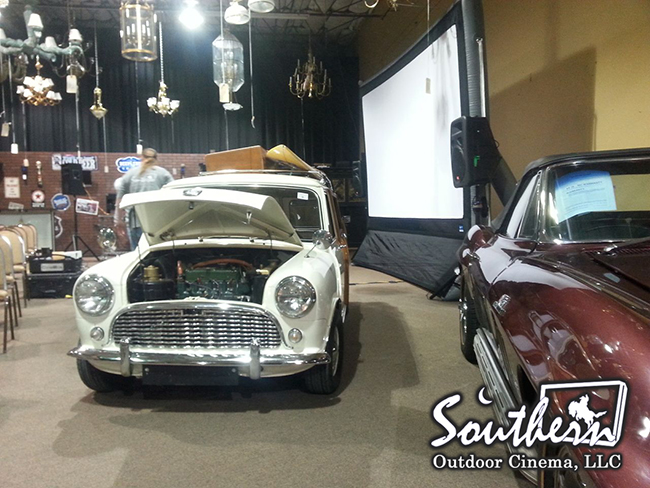 Company picnics, community festivals and county fairs are only improved when an inflatable movie screen is set up for guests to enjoy. In fact, the size of the event makes no difference either. Big or small, thousands of guests or just a few, none of that matters. If the entertainment is the only thing keeping you from finalizing your event plans, then let us help you get it done. A great movie is a great movie, no matter how many people are enjoying it.
All Rights Reserved
Southern Outdoor Cinema, LLC
__________________________________
About Southern Outdoor Cinema
Southern Outdoor Cinema, LLC, is the LARGEST producer of high quality outdoor movie events in the United States for movie studios, film festivals, marketing agencies, Fortune 500 Companies, schools and cities. Southern Outdoor Cinema produces extraordinary outdoor movie experiences with big screens and bright and colorful images so that your audience members feel like they are at a real Hollywood film premiere. Contact Southern Outdoor Cinema to receive a free consultation for your next outdoor movie event.
Comments
comments