Parent Movie Review: Kung Fu Panda 3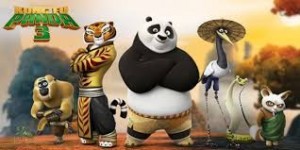 Kung Fu Panda 3 is an action packed animated movie feature, where the main character is a dragon warrior named Po (voice of Jack Black). He is also the ultimate hero of China's animal kingdom; the undisputable dumpling eating champion of the Valley of Peace and the leader of the Furious Five, an alliance that includes Monkey, Tigress, Viper, Crane and Mantis. The voices behind these warriors are those of Jackie Chan, Angelina Jolie, Lucy Liu, David Cross and Seth Rogen respectively. In the ensuing drama, Po unites with his long lost father and a community of other pandas. He must also acquire additional warrior skills to combat a new, more deadly enemy called Kai.
Po's team faces a two way challenge. In the first scenario, their teacher Master Shifu has decided to go on a knowledge and enlightenment expedition. He appoints Po to hold a brief for him. In the second instance, Kai a notorious village yak has come back from the spirit realm after centuries of spiritual condemnation. Kai's quest to become the ultimate warrior and the most dominant force in China and the world prods him to steal the "chi" belonging to all the great warriors and masters of the land. Kai goes on a mission to destroy Po in retaliation to what he sees as the physical world's repudiation of him. Kai also wants to make a mockery of last great prophecy made by the legendary Master Oogway, that a panda warrior will destroy him.
Actors J.K. Simmons, Dustin Hoffman and Randall Duk Kim lend their voices to the characters Kai, Master Shifu, and Master Oogway respectively. Po's birth father Li tells him about the existence of a mystical secrete village occupied by pandas to the chagrin of his adoptive father, a goose named Mr. Ping (voice of James Hong). Soon Po finds himself in a quandary, as he comes into terms with the idea of meeting other pandas and his real father. In the magical village, Po captures the attention of an exotic and flirtatious dancing panda named Mei Mei (voice of Kate Hudson). Mei Mei appears to love Po more than he does in return. Later, Po avows that the skills and knowledge he needs to fulfill Oogway's prophecy can only be obtained in the new secrete village.
Positive Elements
One of the many positive elements on this movie is expressed when Po learns about the sacrifice her mother made to protect him against notorious killers when he was a small boy. Po repeats the same feat later by standing against the enemy to protect his community. In another positive scene, Po's adopted father Ping embraces Po's birth father in a show of unity.
Violence Content
Kung Fu Panda 3 is rated PG for intense martial arts action as well as mild and rude humor. The martial arts action pits good versus evil characters. One frightening scene is when many of Po's friends are captured and transformed into opposing jade warriors. The evil Kai also uses large blades connected to chains to destroy things around him, even though the smashing and punching does not result in stabbing or killing. Despite some scenes of violence, the movie is generally suitable for viewing by people of all ages.
Sexual Content
Kung Fu Panda 3 has a mild sexual innuendo. The most notable sexual innuendo is portrayed by the ribbon dancer, MeiMei who openly flirts with Po. In the second instance, a little child is pointing to certain things and then points below the camera view. Although it is said the items are dumplings, this could be misconstrued to mean testicles.
Drug and Alcohol Content
None, the movie doesn't feature any incident of drug or alcohol use.
Conclusion
Kung Fu Panda is elegantly designed, as it features a scenic mountainside panda hideout and a mystical rock spirit world with a corresponding class act from the pragmatic Po. The new Po is great to look at as he ditches his previous underachieving self. The previous two installments of Kung Fu Panda were highly popular with children and families, even though kids may find the intense battles in the latest release scary. In this movie, Po and his friends must fight against Kai, the supernatural bull monster that is causing so havoc in China. An aura of mystic is captured by the reappearance of Master Oogway and the evil Kai. The other scene that may cause some fear is the conflict between different characters in the movie.
Parents should expect some insults; for example, the use of words such as "loser" and "stupid" and sarcastic humor. On the overall, the entertaining script that includes tit for tat mayhem and inclusion of new characters makes Kung Fu Panda another funny, must watch movie. The other great thing about the Kung Fu Panda 3 is the positive message the movie reverberates. This is portrayed when Po's family and friends lend him love and support during the times of trouble. Although Po appears not to fit perfectly in the new community of panda's, the show of unity embraced by the community when there is a disaster goes a long way to instill a sense of belonging on him. The most enduring enduring themes in this captivating threequel include family ties and identity. The movie opened in theatres on January 29, 2016.
_____________
All Rights Reserved
Southern Outdoor Cinema
Southern Outdoor Cinema of Atlanta, creates extraordinary outdoor movie events that captures
all the senses of their client's audience while recreating the nostalgic feeling of a close-knit
community gathering.  For a free event consultation contact Southern Outdoor Cinema at www.SouthernOutdoorCinema.com
Comments
comments