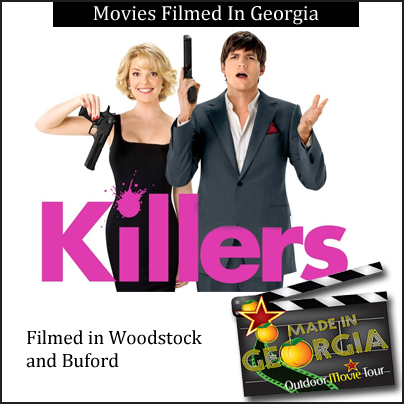 'Killers' is a 2010 action romantic comedy film starring Katherine Heigl and Ashton Kutcher. The movie is about a young woman, Jen (played by Heigl) who meets the love of her life, Spencer (played by Kutcher) after going through a bad break-up. Three years into their relationship, the now married couple is living as blissful newlyweds when Jen discovers that Spencer is actually an assassin who now has a multi-million dollar bounty on his head. The couple flee for their lives as the chase is on. The film is directed by Robert Luketic who also directed Heigl in 'The Ugly Truth', and is best known for directing 'Legally Blonde'. 'Killers' was mostly filmed in Georgia and parts of the movie are also set in Georgia.
The Tributary neighborhood in Douglasville, Georgia was used for several scenes in the movie. Tributary is a large neighborhood that is right next door to Sweetwater Creek State Park. Among Tributary's several attributes are dozens of parks, a tennis center, a basketball court, a fitness center, and its own private mountain biking trail. Tributary is also located only 20 minutes from Midtown. For the filming of 'Killers', one of the homes was used to portray the new home of Jen and Spencer after they got married. A block party scene was also filmed in the neighborhood, as well as several action sequences.
Much of the films production and some filming was done at Riverwood Studios. Riverwood Studios is now known as Raleigh Studios Atlanta and is located at 600 Chestlehurst Road in Senoia. The studio is about 25 minutes south of Atlanta. They have four soundstages that are used by both the film and television industries. The studio has several other features that attract film and television including a screening room, storage and office space, dressing and make-up rooms and several productions services. The huge hit television show, 'The Walking Dead' has also filmed at Raleigh Studios and the surrounding town of Senoia.
Other filming locations for 'Killers' include neighborhoods in Woodstock, Marietta Square in Marietta, and Atlanta.
In 2008, the Governor of Georgia signed the Entertainment Industry Investment Act which provides tax incentives of up to 30% to companies that choose to do filming in Georgia. Not surprisingly, this has brought many big-budget films, such as 'Killers', and hit television shows to the southern state. The states revenue from the film and television industry since 2008 is well into the billions.
'Killers' received lukewarm reviews for both the film's story and the lack of chemistry between Heigl and Kutcher. The film also stars Tom Selleck and Catherine O'Hara. It is currently available on Blu-ray and DVD.
_____________
All Rights Reserved
Southern Outdoor Cinema
Southern Outdoor Cinema of Atlanta, creates extraordinary outdoor movie events that captures all the senses of their client's audience while recreating the nostalgic feeling of a close knit community gathering. For a free event consultation contact Southern Outdoor Cinema at www.SouthernOutdoorCinema.com
Comments
comments