Posted by
Paul Murray
on
Wednesday Feb 24, 2016
Under
Tips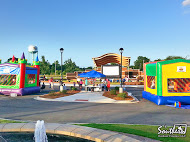 There is a reason why some outdoor movie equipment providers can charge only $299 for their movie services besides using inexpensive equipment with poor viewing quality. That reason is their lack of proper insurance for a movie event or possibly no insurance at all.
Provide a Safe and Fun Outdoor Movie Event
As the organizer of an outdoor movie event you have many responsibilities. You want your guests to have a great time, but you also want to ensure a safe environment free of risks for you and others who are helping behind the scenes. Having general liability insurance is the best way to offer a safe environment with minimal risks at your outdoor movie event, but this shouldn't be your responsibility to provide.
A good equipment rental company will carry general liability insurance. Being adequately insured will benefit them as well as you, their customer. Unfortunately, the fact remains that many of these outdoor movie equipment providers are not properly covered. Even worse, there are some who have no insurance at all.
Why Some Companies Are Not Insured
General liability insurance for outdoor movie companies cost up to $10,000 per year to be properly insured. The outdoor movie season is only several months out of the year. It would be close to impossible for many companies to afford this after paying the expense of their employees along with the cost of gas to travel to each event.
Bounce house companies, DJ services, and other small businesses will offer outdoor movie equipment rental services in addition to their existing business without taking the proper steps to do so. One thing that is often overlooked in these situations is adding general liability insurance for their outdoor movie screen services. Only a few underwriters cover these types of activities so it is difficult to obtain this type of insurance. Those offering outdoor movie services as a side line don't let their insurance provider know they are doing these events. Therefor they are not covered for the outdoor movies.
The Importance of General Liability Insurance
You may be wondering why this insurance coverage is so important. Imagine if your equipment provider were to cause damage to the location of your event while setting up. As the organizer of the event, you and your organization will be held responsible for any damages if the equipment rental company doesn't have insurance to cover such problems. The risk of mishaps increases when companies such as bounce house rentals offer outdoor movie screens in addition to their regular services. More than likely their technicians are not properly trained to set up and take down outdoor movie equipment. They may be more likely to cause damages.
Reputable companies carry general liability insurance. It protects themselves and their customers. When planning your outdoor movie event you need to do your research and make sure the provider you choose has adequate insurance coverage. Don't take their word for it. Ask for a copy of the equipment provider's general liability insurance certificate, and make sure the description of coverage includes cinema viewings and outdoor movies. $1,000,000 is the industry standard for this type of insurance. Keep this in mind when looking over the coverage.
Responsibilities of an Outdoor Movie Event Organizer
Along with offering your guests a great movie at an enjoyable venue, with extras and entertainment to make everyone comfortable, you need to make sure all behind the scenes responsibilities are being handled. You will be doing your best to minimize damages and risks by verifying that your outdoor movie equipment provider has the proper liability insurance to cover your event. If the company you are considering doesn't have this coverage, continue your search for a more reputable one. In the end you will be glad you did.
_____________
All Rights Reserved
Southern Outdoor Cinema
About Southern Outdoor Cinema
Southern Outdoor Cinema, LLC, is the LARGEST producer of high quality outdoor movie events
in the United States for movie studios, film festivals, marketing agencies, Fortune 500
Companies, schools and cities. Southern Outdoor Cinema produces extraordinary outdoor
movie experiences with big screens and  bright and colorful images so that your audience
members feel like they are at a real Hollywood film premiere.  Contact Southern Outdoor
Cinema to receive a free consultation for your next indoor or outdoor movie event. www.SouthernOutdoorCinema.com
Comments
comments