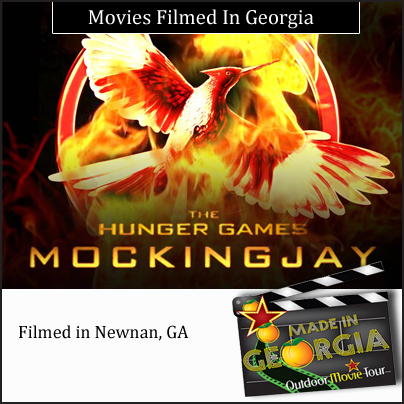 The third installment of 'The Hunger Games' series, 'Mockingjay', is currently filming in Georgia. 'The Hunger Games' is a best-selling, science fiction book trilogy from author, Suzanne Collins. The trilogy's first two books, 'The Hunger Games' and 'Catching Fire' have already been adapted into films and have dominated the box office world wide. The third book, 'Mockingjay' will be spilt into two films. Much of part one and two of the film are filming back to back in parts of Georgia.
One of the filming locations for 'Mockingjay' is in Newnan, Georgia. The film's crew has set up shop at Caldwell Tanks in downtown Newnan. Caldwell Tanks is a manufacturer of water tanks, industrial-field erected tanks, and concrete storage structures. Inside one of Caldwell Tanks' large industrial buildings, production crews spent weeks building a coliseum set. The cast and crew trailers have also gone up inside the facility. Security and police have been seen lined all around the property and the set has been closed to the public. Newnan has also recently been the filming grounds for AMC's hit show, "The Walking Dead".
Over in Atlanta, the Marriott Marquis Hotel is playing host to the set of 'Mockingjay' as well. The Marriott Marquis is located at 265 Peachtree Center Avenue in downtown Atlanta. Pictures of the set going up at the hotel began surfacing online back in December. Rumors around the internet say that the hotel is being used to represent parts of the totalitarian government, the Capital, that is portrayed in the books and in the films. The second film in the series, 'Catching Fire', also filmed scenes at the Marriott Marquis in 2012.
There have been a few other Georgia filming locations for 'Mockingjay' including, the Pullman Yard industrial facility in the Kirkwood area and Sweetwater Creek State Park outside of Atlanta, rural Dawsonville, and Carlton Farms in Rockmart, which is known for its seasonal corn mazes.
Due to its advantageous tax breaks, Georgia has become a choice location for filming both movies and television shows. With the blockbuster 'Catching Fire' and now its sequel, 'Mockingjay' (parts one and two) filming in Georgia, the attraction to filming in Georgia is only expected going to grow.
'Mockingjay' stars Oscar winning actress Jennifer Lawrence, Josh Hutcherson, and Liam Hemsworth. Part one of the film is set to be released on November 21, 2014 and part two is scheduled to be released on November 20, 2015.
All Rights Reserved
Southern Outdoor Cinema
About Southern Outdoor Cinema
Southern Outdoor Cinema doesn't rent outdoor movie screens. Instead Southern Outdoor Cinema produces extraordinary full turnkey outdoor movie events that engage, entertain and impresses audiences and
sponsors. Because of SOC unique approach to outdoor movie event planning and use of superior cinema equipment, our events stimulate your audience's senses. For a free event consultation, contact Southern
Outdoor Cinema at .
Comments
comments