Posted by
Paul Murray
on
Monday Oct 21, 2013
Under
Tips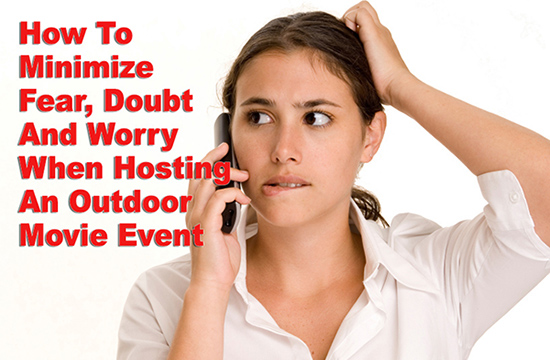 You've been put in charge of organizing an outdoor movie event for festival, school or church. You've never put on a event before and you don't know where to start and that worries you. Someone else in your group has already approached sponsors to financially support your movie night and you need to impress them. You also fear that your audience will be disappointed with the event. Other thoughts creep into your head. Will the sound not be loud enough? Maybe you're concerned that the wind will knock over the inflatable movie screen. There's a lot to worry about when hosting a movie outdoors.
To minimize fear, doubt and worry during your outdoor night, you need to step back to the beginning of your planning process and start off with the right equipment provider. Here are several things an experienced outdoor movie provider can provide you to make your night stress free:
Experience to handle the tricky stuff
An equipment provider who specializes in outdoor movie productions will have weathered many challenges such as high winds, specialized tethering, unexpected thunder showers. They will have the professional experience to properly analyze almost any challenge that can occur. These full time companies will also determine ahead of time any unique challenges with your venue that will need to be considered. When renting an outdoor movie system from a professional full-time outdoor movie professional, they will have many events that they produce in a week and will have the expertise to make your event execute smoothly.
The right outdoor movie equipment for your special event
There are many companies today that are adding outdoor movies on to their existing business just to make a few extra dollars. When showing a flick outdoors is important to understand that not all projectors and inflatable movie screens will present a movie in the same way. For example a see-thru screen owned by many DJ's will show objects in the background of the venue through the screen which is distract from the movie itself. To avoid this, ask the company you are considering for your family movie night what brand of equipment are they using. Ellite providers will use AISRSCREEN inflatable screens, which will WOW your audience with a bright and vibrant picture quality that can get your movie started before dark. There are only 2 other top brand screens on the market and they are Open Air Cinema and Epic. Showing a Flick outdoors is Fun by no-named brand or a custom blow up screens will have your guests sitting in the cold and dark waiting for the movie to start.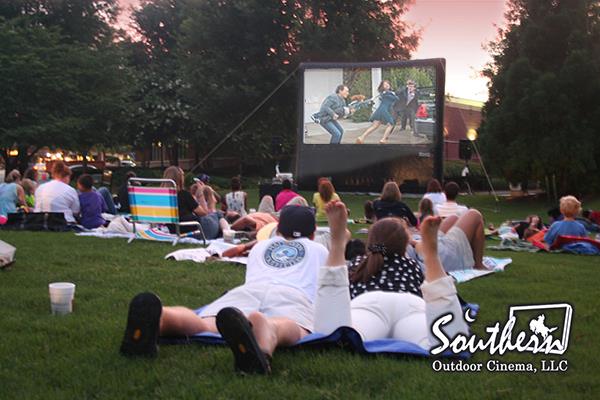 Knows copyright laws for showing films outdoors
Ever seen the FBI warning at the beginning of a dvd? The part where you can't forward the DVD to begin the movie? This says you have the rights to only show the movie in the privacy of your home. Any showing outside of your a few friends at your house requires a public performance license. A reputable company that somes movies outdoors under the stars will know how to work with Hollywood Studios to get permission to show their blockbuster films at your special event.
Reputation of producing well attended movie events
Due to the popularity of hosting an open air movie event, it is understandable that many mom & pop businesses are buying into outdoor movie franchises so that they can cash in on the popular trend. Yes, these companies can show flicks outdoors, but probably not well. So how do you know that you are working with a reputable company that has experience with hosting successful movie nights? Ask for references for the last 3 public events they did or ask to see if you can come out to an upcoming event. An equipment provider will have happy and repeat customers and will be booked working regularly.
Ask questions when looking around for an equipment provider. Know what equipment you are getting with your movie night package and be skeptical of prices that are too good to be true. Doing some research before you rent equipment for your movie night will improve upon the success of your special event.
All Rights Reserved
Southern Outdoor Cinema, LLC
__________________________________
About Southern Outdoor Cinema
Southern Outdoor Cinema creates extraordinary outdoor movie experience with movie theater presentation quality. Southern Outdoor Cinema works with marketing agencies, film festivals, cities, elementary schools and universities to produce stress-free outdoor movie events that are well received by audiences and sponsors. Contact Southern Outdoor Cinema to receive a free consultation for your next special event.
Comments
comments