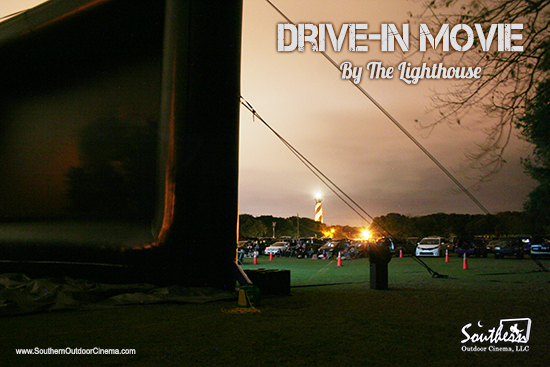 It's that time of year when both small towns and big cities celebrate the holiday season with tree lightings ceremonies, holiday parades and a visit from Santa, With the December weather bringing a chill in the air, festivals are often absent from the holiday festivities.
This season, a city in a Northeast Florida beach area wanted to bring some excitement and change to their Christmas events. Instead of having an ice rink temporarily built in town, the event planners organized a month long celebration called a "December to Remember", which included concerts and movies. To kick off the holiday celebration and to put the community in the nostalgic mood, a drive-in movie at the local school started off the holiday events.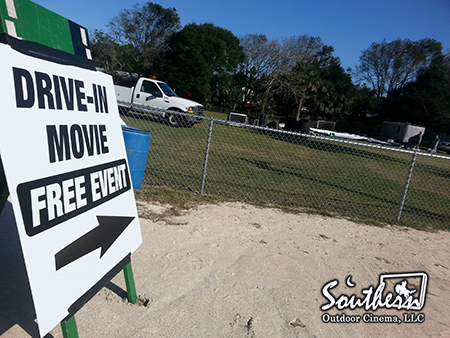 Our crew traveled to the coast of Florida with our portable outdoor cinema equipment. When we arrived, we were instantly greeted by on-lookers who had read in the newspaper of the drive-in event that was to be hosted later that night. They were curious as to how a drive-in theater could be installed for a one-day event on a large athletic field. As we chatted more we learned that many of the folks had never been to a drive-in theater before. (How exciting, we were going to be part of someone's first drive-in movie experience!)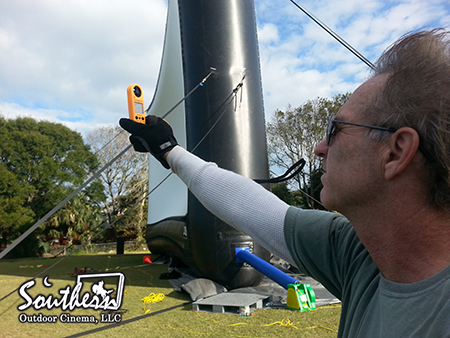 To transform a school's athletic grass fields into an open air movie theater where people could watch a film from their cars, we would be installing a giant 3 story tall inflatable movie screen system, the largest in the South. As our crew began to inflate the enormous projection screen the winds began to blow. A storm front was passing through the Southeast and our wind meters were beginning to read over 25mph winds. An inflatable movie screen of that size could easily become a big sail and blow away at a windy venue. But we were confident that our client's holiday event would not be canceled due to the high wind conditions, for Southern Outdoor Cinema trusts and uses Airscreen brand inflatable cinema screens, the best in the world. Plus we came prepared with an additional heavy duty staking system and tie down straps.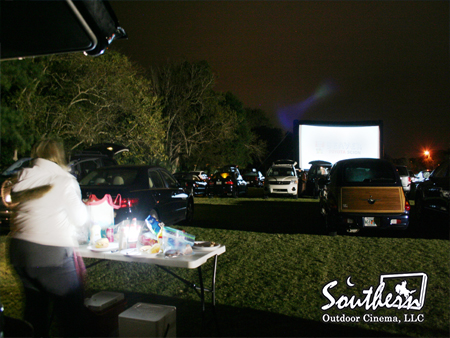 Before the start of the movie, again the weather made a change and the temperatures outside began to drop. An outdoor movie in cold weather can deter families from coming out, but an outdoor movie done in the style of a drive-in can be successful and well attended. Families just snuggle up to watch the film from their car or minivan. To add to the nostalgic feel of the drive-in event we installed a fm-transmitter listened to the movie by tuning in on their radios.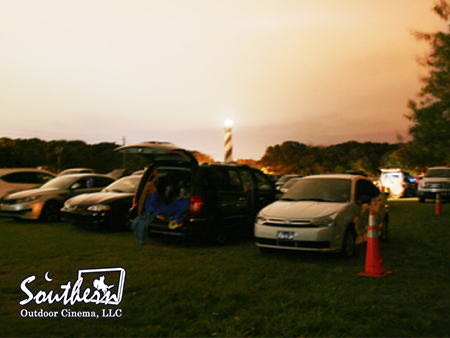 The closest drive-in theater to the community was over 90 aways. Installing a temporary one-night drive-in theater was a special treat for the families and young couples who had never experienced a movie from their car especially an event with a view of a lighthouse. The lighthouse in the background of the drive-in really made the holiday movie night an event to remember.
Don't have a drive-in theater in your community? Southern Outdoor Cinema can recreate the nostalgia of a drive-in experience at your open air venue. For a free consultation contact an event specialist at Southern Outdoor Cinema.
Comments
comments