Posted by
Paul Murray
on
Wednesday Aug 1, 2012
Under
Tips
Going out to see a movie a tradition that is enjoyed by individuals, families, groups of friends, and couples out on dates. If you have seen advertising for outdoor movies in your area, you might be curious about what these events are like. Here is why you should consider skipping the movie theater next time you head out to see a movie and giving an outdoor movie a try. (Click here to tweet this.)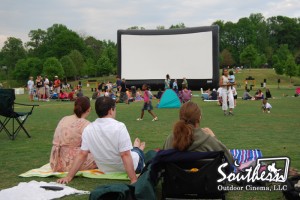 Human Interaction
Going out to see a movie is a very social event; one of the reasons you might choose to go out and see a movie, rather than renting a DVD, is because of the chance to meet and interact with new people. Outdoor movies are made for socializing. The atmosphere is friendly and relaxed, without the need to be quiet like in a movie theater. You can bring a picnic, eat, and play cards with friends before the movie begins. In addition, a typical movie theater holds about 200 people, while some outdoor events host up to 10,000 people.
Comfort
No need to be confined to one seat the way you would be in a busy movie theater. At an outdoor movie you have the freedom to stretch out and sit however you would like. Bring a comfortable chair, a blanket, or even an air mattress to lay down on. You also won't have anyone kicking your seat like you might in a movie theater. Children are typically also more comfortable in an outdoor setting.
It can be frustrating to bring young children to a movie theater, where they need to sit still and watch quietly. At an outdoor movie event, children have the freedom to get up and play during the movie. Depending on the venue, pets are even allowed at many outdoor movie events, making an outdoor movie fun for the entire family.
Wallet Friendly
Outdoor movies are an affordable way to enjoy a night out, since communities often host outdoor movie events for free. You can spend a few dollars on snacks and drinks if there is a concession stand, or keep it completely free and bring your own movie snacks.
A Unique Experience
An outdoor movie can take place almost anywhere; movies can be shown in parks, pools, historic sites, and other beautiful locations. These events offer a unique chance to enjoy what is usually an indoor activity in an outdoor setting under the stars.
Visual Display
Another reason to go out to see a movie rather than viewing one at home is the chance to see the movie on a big screen. Outdoor movies are often shown on screens that are even bigger than those found in movie theaters.
Try something new and attend a local outdoor movie event this summer. Chances are you will enjoy it even more than seeing a movie in a theater.
All Rights Reserved
Copyright 2006-2012
Southern Outdoor Cinema
###
Want to use this article on your website or your own blog? No problem! But here's what you MUST include:
Southern Outdoor Cinema is the largest producer of high quality outdoor movie events in the country. We don't just rent inflatable movie screens. Instead SOC shares nearly a decade of expertise with our clients so that they have an EXTRAORDINARY outdoor movie event which is EASY and STRESS-FREE to organize. To begin planning your outdoor movie event contact Southern Outdoor Cinema at www.SouthernOutdoorCinema.com or visit our Facebook page at www.facebook.com/SouthernOutdoorCinema for daily outdoor movie tips.

Comments
comments