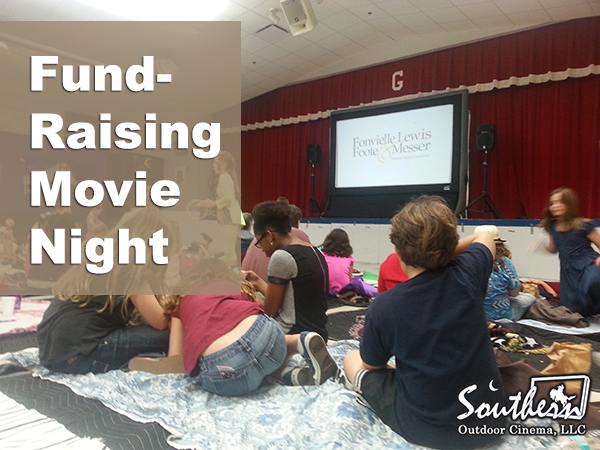 Every school has a parent teacher organization that is always looking for terrific ways to raise money. The best events are ones that both the parents and students will find fun to go to, as well as help out with. One school came up with an extremely successful way of accomplishing this.
Rather than holding yet another bake sale, craft fair, or the likes, this school came up with the idea of a movie night at the school. Although it may at first sound like a huge undertaking, these types of events are actually fun for the whole family and easy to organize. Best of all the school earned quite a bit of much needed money.
To pull it all together, the PTA got busy planning. They contacted several local people and businesses to be sponsors. In return, their message or ad was shown on the inflatable screen before the main feature began. Their organizing paid off with enough funds to cover the movie production and licensing fees. There was even some left over to show for their fund raising efforts. This was added to money brought in from activities, food sales, and silent auctions that made the movie night a huge success.
To get the school ready for the event, teachers and parents worked together to recreate a theater setting inside of the school. The gymnasium was used as the area for the actual movie viewing. It worked out perfectly. An inflatable screen was set up, and plenty of mats and chairs were made available for seating.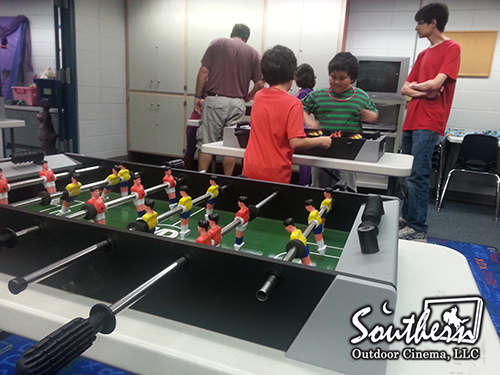 Before the family friendly movie was played, guests could take part in numerous games such as the ring toss and cake walk. Classrooms were utilized as designated spots for each activity. One room was set up as a game room with foosball and air hockey that the younger students really enjoyed playing. Another was used for karaoke that both the kids and adults had a great time participating in.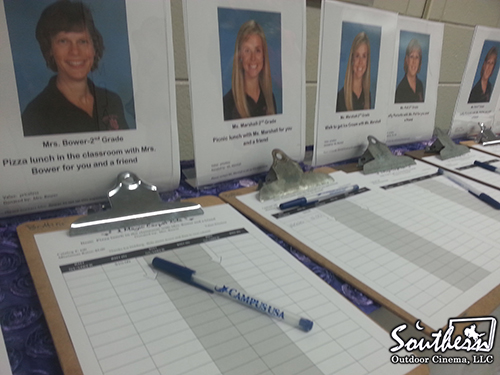 The teachers were able to help out even more so by offering their services for a silent auction. Many offered themselves for picnic or pizza lunches that the winner and a friend could enjoy with them. A paper was hung up with their picture, name, and offering. Underneath was a clip board where guests could "bid." It was an excellent way to earn additional funds while getting to know their students families better.
The PTA knew that food is a big part of the movie night experience. Concession stands were set up that mimicked ones found in the movie theaters. They sold all sorts of movie time snacks such as bags of popcorn and candy. Beverages such as Coke, Diet Coke, Sprite, and bottled water were also available. Each item was sold for a dollar with proceeds benefiting the fund raiser. Outside there was a food truck selling pizza and a shaved ice cart located near plenty of benches for customers to sit on while enjoying their treats.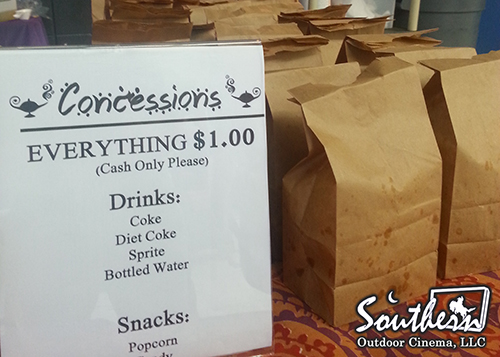 After lots of socializing, game playing, and eating, everyone gathered in front of the inflatable screen in the gymnasium for their main attraction. A family friendly movie that was appropriate for all ages was shown.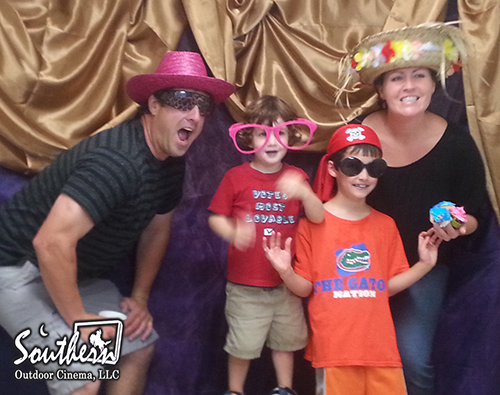 Once the movie night came to a conclusion, all agreed that it truly was a successful PTA fundraiser in every way. The community had fun organizing it and attending it, and best of all, they were able to raise a nice amount of money for their school.
All Rights Reserved
Southern Outdoor Cinema, LLC
__________________________________
About Southern Outdoor Cinema
Southern Outdoor Cinema, LLC, is the LARGEST producer of high quality outdoor movie events in the United States for movie studios, film festivals, marketing agencies, Fortune 500 Companies, schools and cities. Southern Outdoor Cinema produces extraordinary outdoor movie experiences with big screens and bright and colorful images so that your audience members feel like they are at a real Hollywood film premiere. Contact Southern Outdoor Cinema to receive a free consultation for your next special event.
Comments
comments