Posted by
Paul Murray
on
Tuesday Apr 17, 2012
Under
Tips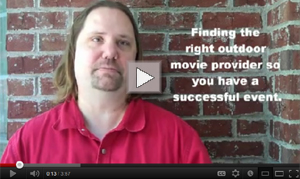 Today I want to talk to you about finding the right outdoor movie company so that you may have a succesfful event. First of all you need to know that there are two kinds of companies that produce outdoor movie events:
1.) The first kind of company that produces events are: DJ, Bounce House rental companies, and people who think it showing flicks outdoors is fun as a side businesses to their actual full time employment. These kind of companies typically hire people with now particular skill set to work their outdoor movie events.
Typically these kind of outdoor movie providers carry no insurance, or say they
have insurance, but it does not cover outdoor movie event productions.
Equipment from these kind of providers are inexpensive, usually not commercial grade (but rather equipment ment for personal use) or that is underpowered for an outdoor movie setting. Their equipment is really ment for indoor movie events.
2.) The second type of company that produces outdoor movie events are full time businesses that specialize only in outdoor cinema productions. Outdoor movie production companies will use theatrical grade screen surfaces, professional grade video and audio sound systems. Cinema production companies equipment include HD digital projectors and high definition sound systems.
Employees of professional cinema companies typically have background in working with stage and audio-visual equipment and often work in the film industry.
Full time outdoor cinema productions companies will carry General Liability Insurance for EXACTLY what they do which is outdoor movie events.
Southern Outdoor Cinema is a company that fits into the second category of outdoor movie providers. We are a professional outdoor cinema company that specializes in outdoor movie productions.



HERE ARE SOME TIPS FOR HIRING AN OUTDOOR MOVIE COMPANY. ASK THE FOLLOWING QUESTIONS..


Do you carry insurance and how much insurance do you carry?
Request a copy of the provider's insurance and call the insurance agency listed on the paper. Find out if the business is covered for outdoor movie events or is the provider list as something else, such as a realtor.
How do I obtain a movie license?
BEWARE of an outdoor movie company that tells you do NOT need a movie license for outdoor movie events in public. These providers are asking you to break copyright laws. Via copyright laws all outdoor movie showings require a public performance license to be purchased, except for events shown in your backyard for personal use.
What brand of screen do you use?
Currently there are only three professional manufacturers of inflatable movie screens: AIRSCREEN, Open Air Cinema and EPIC. If a provider can not name their equipment then they do not know alot about what they are doing. The brand of screen that is use will effect both the presentation of your movie and safety of your event.
What type of screen surface are you using?
Professional grade screen surfaces will use theatrical grade surfaces, just like in the movie theater. Quality of the screen is measured in gain. Screen surfaces should be highly reflective so to produce a bright and colorful picture image. Big-box store and inexpensive screens will have a cloth or plastic surface that is see thru and not very reflective which will produce a dull or poor image quality.
What type of sound and projection are you using?
Most companies will claim they are using state-of-the-art audio or video, but when was it state-of-the-art? Equipment that was top quality 5 years ago, is not top quality today.
Do you maintaining your projectors? Are you changing the projector bulbs regularly?
Bulbs that are not changed in projectors will get dull over time and effect the image quality at your show.
How do you measure your screen size?
Is one companies 50′ screen the same as another companies 35′ screen? Do they measure the screen surface or frame. Are they measuring their inflatable movie screen on the diagnol, width or height. These are important questions to ask when comparing screen systems.
Can you provide references for the last 3 events you produced?
Professional outdoor movie providers should be able to provide references of the last three shows that they produce, not just a select list of references that may be old. Also ask to see pictures of actual events that company has produced.
All Rights Reserved
Southern Outdoor Cinema
"Bigger Screens. Brighter Images. Crisper Sound."
###
Want to use this article on your website or your own blog? No problem! But here's what you MUST include:
Southern Outdoor Cinema is the largest producer of PREMIUM outdoor movie events in the country. They are leading the industry with NEW & UNIQUE outdoor movie events. To begin planning your outdoor movie event contact Southern Outdoor Cinema at www.SouthernOutdoorCinema.com or visit their online photo gallery at www.facebook.com/SouthernOutdoorCinema for event ideas.

Comments
comments