Fall Festivals are a great way to bring families and the community together. Great food, contests, children's games and music all make a fall festival a great family experience. In order to get things started right you will want to choose a special kick off event that all attendees will enjoy. A unique opening event will attract crowds and help set the tone for a great festival.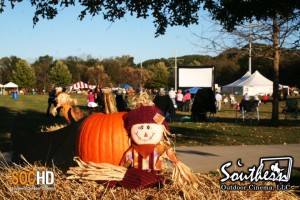 An outdoor movie event is the perfect way to get things started and set the stage for a great family festival. An outdoor movie ties in perfectly with the purpose of a fall festival; which is to provide a fun event for families to come together and enjoy the crisp weather and good food that make fall such a great time of year. Children and adults of all ages will enjoy coming together under the stars, cuddling under a blanket and enjoying a unique outdoor cinema event as a family.
A well chosen movie will help set the tone for the event. Whether you choose a farm themed movie for your "Flick on the farm" or a favorite family or children's movie; it will be a memorable and enjoyable event for all who attend.
To add an outdoor movie event to your fall festival, contact Southern Outdoor Cinema at www.SouthernOutdoorCinema.com
All Rights Reserved
Southern Outdoor Cinema
"Bigger Screens. Brighter Images. Crisper Sound."
Comments
comments