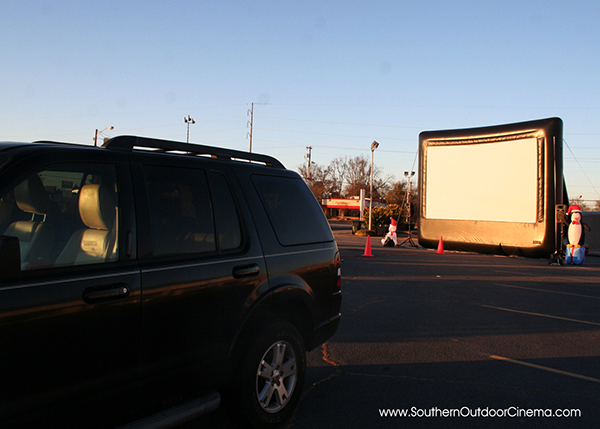 Customer appreciation is an important part of maintaining a loyal customer base, but many companies struggle with discovering a fun, unique way to accomplish this goal. An outdoor movie night offers customers the opportunity to attend a family-friendly event while simultaneously giving the business a chance to build positive brand recognition. Understanding how to hold such an event and the benefits that these events provide will help companies determine whether this marketing opportunity is right for them.
Benefits Of Hosting An Outdoor Movie Night Customer Appreciation Events
Holding customer appreciation events throughout the year is an essential method of maintaining the loyalty of current customers while attracting new ones to the business. Managers and owners have the opportunity to connect directly with their customer base during these events, and the feedback that is provided in a laid-back setting is invaluable to the business. Here are the benefits of holding a drive-in movie event for customers.
– Drive-in movies are fun and unique. The family-friendly events are also memorable, so customers will remember the event and the business for the long term.
– People who are thinking about becoming customers are more likely to do so if a business provides these outdoor movie events. Companies can feature their food or products at the event, so potential customers will be afforded the opportunity to sample what the company has to offer.
Chick-Fil-A Drive-In Movie Event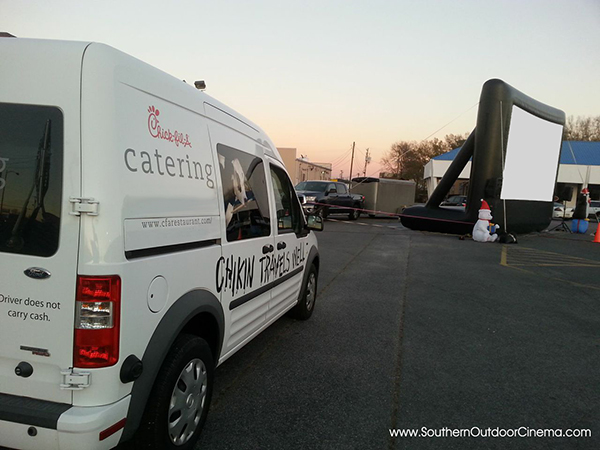 Businesses that are still on the fence about hosting a movie night can learn from the example of Chick-fil-A. The fast food restaurant's recent outdoor movie event drew families to the giant inflatable movie screen placed by Southern Outdoor Cinema.
While the movie itself played a big role in the success of the evening, the initiative that Chick-fil-A took to make the night a memorable one helped to improve brand recognition and delight loyal customers. As a Christmas-themed event, Santa and Mrs. Claus were on-site to pose for pictures with families and little ones.
The drive-in movie was set up next to the restaurant for convenient access. Families were invited to relax in their vehicles and snuggle up in blankets for a showing of a holiday film. Holiday music was played throughout the event to complete the feeling of Christmas and the holidays, and inflatable holiday decorations contributed to the theme.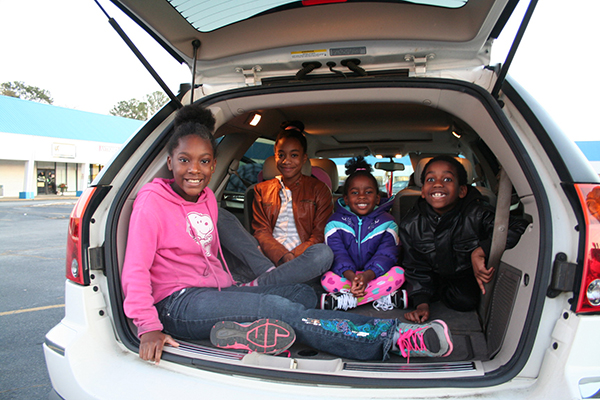 Of course, the Chick-fil-A cow made an appearance. The inclusion of the mascot helped to drive home the goal of brand recognition while offering children a fun experience that they are likely to remember forever. Hot chocolate and popcorn were sold at a concession stand set up near the screen to complete the movie experience.
Choosing Southern Outdoor Cinema
While there are benefits to holding an outdoor movie event, it is important for companies to choose the right equipment rental company to provide their customers with the best experience possible. There are DJs and equipment rental companies that provide low-quality screens and audio equipment, but impressing customers and showing appreciation for them requires something better.
Southern Outdoor Cinema of Atlanta offers the high-quality cinema equipment and exceptional service needed to create a unique, fun outdoor movie event for clients and their customers.
———-
About Southern Outdoor Cinema
Southern Outdoor Cinema, LLC, is the LARGEST producer of high quality outdoor movie events in the United States for movie studios, film festivals, marketing agencies, Fortune 500 Companies, schools and cities. Southern Outdoor Cinema produces extraordinary outdoor movie experiences with big screens and bright and colorful images so that your audience members feel like they are at a real Hollywood film premiere. Contact Southern Outdoor Cinema to receive a free consultation for your next outdoor movie event.
Comments
comments