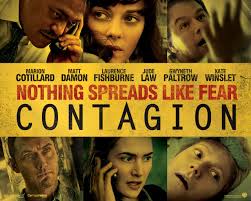 'Contagion' is a 2011 thriller that was directed by Steven Soderbergh. ('Erin Brokovich' and 'Magic Mike' are just two of his many other credits). The film uses a multi-narrative style to tell the story of a highly lethal virus that has become a pandemic. The film follows health officials and medical researchers as they face the challenge of getting the virus under control, and fight to create a vaccine. The film also follows various characters who have been affected by the virus. 'Contagion' includes a slew of A-list actors in its ensemble cast, including, Matt Damon, Laurence Fishburne, Kate Winslet, Gwyneth Paltrow, Marion Cotilliard, Bryan Cranston, and Jude Law. There were multiple filming locations for the movie, including some time spent filming in and around Atlanta, Georgia.
The Center for Disease Control and Prevention plays a big role in 'Contagion', as the team of Doctors who are trying to contain the disease work out of the building. The production company was actually able to film at the real Center for Disease Control and Prevention, (the CDC,) which is located in the Druid Hills area of Atlanta. The CDC is a highly restricted area, so only the exterior of the building could be accessed and used for shots in the movie. The parking garage and the reception area for the CDC's onsite museum can also be seen in the movie. Several extras were used for shooting at the CDC, especially for a scene that included a mob of panicked citizens outside of the building. Some of Georgia's National Guard members were used for this scene as well. They were used along with police officers to hold back the concerned, protesting crowd. Fake tv reporters and military vehicles also littered the set for this scene. Actor, Laurence Fishburne was on hand for many of the scenes shot at the CDC. Many onlookers who were there when Fishburne was shooting his scenes were able to catch some of the action. While filming at the CDC, roads had to be closed off which caused traffic issues in the area.
Some filming also took place in downtown Atlanta while the cast and crew of 'Contagion' were in Georgia.
'Contagion' debuted at number one at the box office on its opening weekend. The film was met with mostly positive reviews by both critics and audiences. The science of the film was also praised for being a relatively accurate portrayal.
'Contagion' is currently available on both Blu-ray and DVD.
_____________
All Rights Reserved
Southern Outdoor Cinema
Southern Outdoor Cinema of Atlanta, creates extraordinary outdoor movie events that captures all the senses of their client's audience while recreating the nostalgic feeling of a close knit community gathering. For a free event consultation contact Southern Outdoor Cinema at www.SouthernOutdoorCinema.com
Comments
comments