Posted by
Paul Murray
on
Tuesday Aug 25, 2015
Under
Tips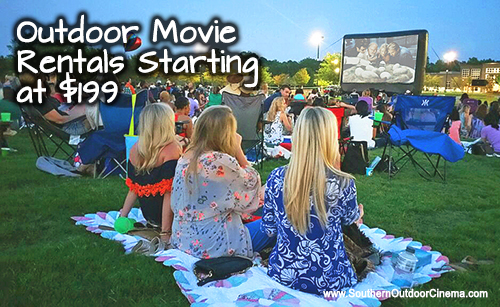 Many of you who belong to a PTA/PTO organization or host school events for grades ranging from elementary school to college know how important it is to have events that are both fun and successful. Holding an outdoor movie event in the Atlanta Georgia area is an excellent way to get people to come to your function as well as guarantee that everyone will have a good time and leave with memories that will last a lifetime.
Choosing the Right Movie Rental Company
When you begin to plan your function you will find there are several cinema companies out there who do outdoor movie events. Choosing the right one ensures a successful evening that both the host and guests can enjoy. There are some inflatable movie screen equipment rental companies in Atlanta that offer their services for as low as $199 or $299. Don't ignore that red flag telling you that this sounds too good to be true.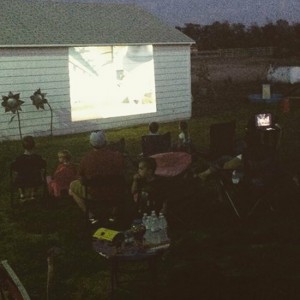 There are many reasons why these companies are so cheap. Several of them can offer these unbelievably low rates because they are providing their outdoor movie equipment as additional income to their main operation. They are not experts in the outdoor movie event production. DJs often offer movie services. You'll also find mom and pop companies doing outdoor movie events as a side job. This can be a problem because these people are not focusing fully on your movie experience. Cheap or faulty equipment combined with their lack of knowledge can result in a disappointing event for you and your guests.
Inflatable Screen Quality
There are also inflatable movie screen rental companies that have low prices due to the inflatable screen system they are using. Companies who purchase inexpensive, non-commercial grade screens cannot give you the best movie viewing experience. As a result the quality of your outdoor movie event will suffer.
There are many different kinds of inflatable outdoor movie screens. Understanding their differences can help you choose the best rental company available. Some of these screens are made for one or two time use at home. They are meant to be discarded after that. Others are made by manufacturers who produce things other than movie screens such as bounce houses. Typically these movie screens are unattractive and will have wrinkles which distort the movie image.
You'll also find that the projection surface or the white screen surface where the movie is shown on some inflatable movie screens is not a real movie screen surface like you would find in an actual theater. This will make the picture look dull or appear to be the wrong color. We even came across a movie screen that made everything look green. When you choose Southern Outdoor Cinema you can rest assured that you are getting a real theatrical screen surface on the inflatable movie screen equipment.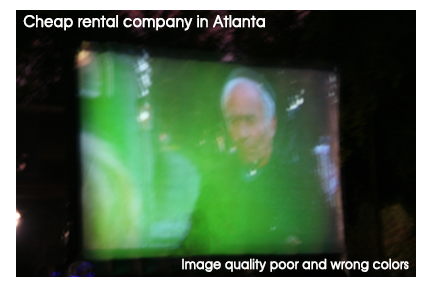 The Benefits of an Early Start
Another factor to consider is whether or not you can begin your event before sunset. Due to the quality of their screen surface and the types of projectors used by these cheaper providers, images cannot be on the screen until after dark. Southern Outdoor Cinema can start their movie projection up to an hour before most of their competitors. This allows you to have an earlier movie start time. That's an important consideration if you're having young children at your event. Parents won't want to keep their kids out late.
Earlier start times also give more time for displaying sponsor advertising. As a client you'll be able to make money off the event by showing your advertising for at least 20 minutes before the movie begins. You'll also find you won't have guests sitting in the dark waiting for the feature film to start. Southern Outdoor Cinema has found that the best part of watching an outdoor movie is the setting of the venue. Seeing a beautiful sunset in the background when the movie begins playing can be breathtaking.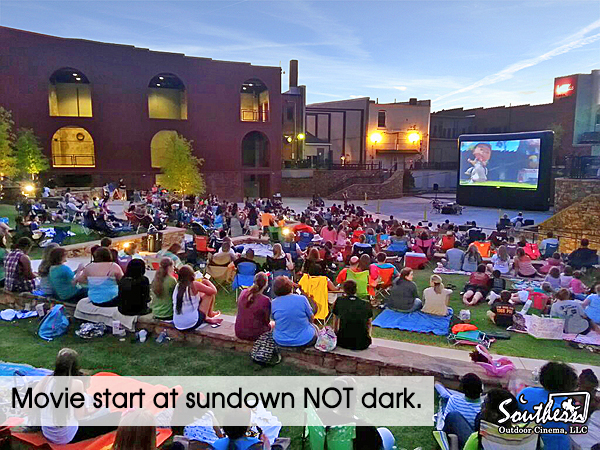 What to Do When Hiring a Movie Company
It's important to check the price quotes for your outdoor movie event. Obtain references from recent clients that have worked with the rental company you are considering. Visiting an event that is being produced by that company will allow you to see exactly what level of quality you'll be getting. Many competitors will lie about the size of the screen they are using, but with Southern Outdoor Cinema you'll find you get exactly what you would expect to make your outdoor movie event a complete success.
———-
About Southern Outdoor Cinema
Southern Outdoor Cinema, LLC, is the LARGEST producer of high quality outdoor movie events in the United States for movie studios, film festivals, marketing agencies, Fortune 500 Companies, schools and cities. Southern Outdoor Cinema produces extraordinary outdoor movie experiences with big screens and bright and colorful images so that your audience members feel like they are at a real Hollywood film premiere. Contact Southern Outdoor Cinema to receive a free consultation for your next outdoor movie event.
Tags : cheap, pta, pto, school | 1 comment