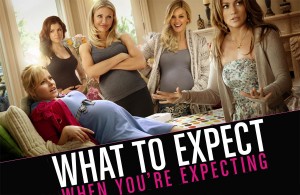 The 2012 film, 'What To Expect When You're Expecting' follows five couples as they go through the surprises and life changes that are brought about with having a baby. The film has a variety of stars, including Cameron Diaz, Elizabeth Banks, Jennifer Lopez, Dennis Quaid, Matthew Morrison and Chris Rock. The film was inspired by the New York Times bestseller of the same name that was written by Heidi Murkoff and Sharon Mazel. The movie was set in Atlanta, Georgia. Besides a scene filmed in South Africa, the rest of the film was also shot in Atlanta.
There are several outdoor park scenes in the film. All of these scenes were filmed in either Piedmont Park or Inman Park. Both parks host scenes where many of the film's men have their weekly "dude's group" walks. (These weekly meetings are where the men can vent about their wives and the goings-on in their lives). The Woodruff Arts Center is the seen during a scene where two characters park their food trucks before having a late night picnic in Piedmont Park. Some of the areas actual food trucks are seen throughout other park scenes as well. Another couple in the movie also appear in a scene where they have a picnic, as well as watch an outdoor movie. This was filmed at Piedmont Park. Also visible on-screen from Piedmont Park is the 14th St. gate, stone steps and the soccer fields.
During the film, several other Atlanta landmarks are also very visible. The Georgia Aquarium is where one of the characters spends most of her time as a freelance photographer. The aquarium, therefore, gets some good shots featured in the film. At Little Five Points, which is famous for some of it's shops and restaurants, one of the characters owns a baby store. Chops Lobster Bar at 70 West Paces Ferry Road in the northwest Atlanta area, was the filming location for one of the restaurant scenes that featured actors Dennis Quaid and Elizabeth Banks. Other Atlanta locations that can be seen in the film are, Smith's Olde Bar, the office building Perkins & Will, the High Museum of Art, and the Fulton County Airport at Charlie Brown Field.
The filming of both movies and hit TV shows in Georgia continues to flourish. 2014 will bring huge films such as 'The Hunger Games: Mockingjay' and 'Need For Speed' to the theaters, which were both filmed in Georgia. With big studios steadily bringing their big-budget films to the state, the attraction to Georgia should only continue to grow throughout the industry.
'What To Expect When You're Expecting' also stars Joe Manganiello, Chase Crawford, Anna Kendrick and Brooklyn Decker. It is currently available on Blu-ray and DVD.
_____________
All Rights Reserved
Southern Outdoor Cinema
Southern Outdoor Cinema of Atlanta, creates extraordinary outdoor movie events that captures all the senses of their client's audience while recreating the nostalgic feeling of a close knit community gathering. For a free event consultation contact Southern Outdoor Cinema at www.SouthernOutdoorCinema.com
Tags : What To Expect When You're Expecting | Comments Off

on 'What To Expect When You're Expecting' Filmed in Georgia