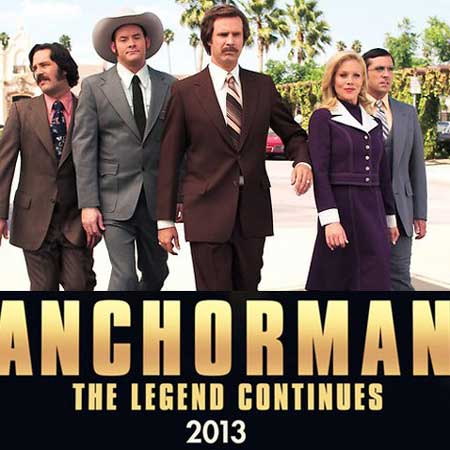 "Anchorman 2: The Legend Continues" is the follow up to 2004's "Anchorman: The Legend of Ron Burgundy". The sequel takes place after Ron's success in the 1970's with him being disbanded from his Channel 4 news team until the team is recruited for New York's first 24-hour news channel. The film is set during the 1980's cable news era.
Atlanta, Georgia got to be a part of "Anchorman 2" with several of its locations being used for the film. One of the Atlanta filming locations was Woodruff Park, which is located in the heart of Atlanta between Peachtree St NE and Park Place NE. The park, which is 6 acres and includes a performance pavilion, two fountains and several monuments, is also home to a notable sculpture, The Phoenix, which represents Atlanta's rise from the ashes after being burnt down by Union armies in the Civil War. For the film, the area was turned into vintage New York City circa 1980. The park was used for a scene in the film which included a large brawl with dozens of actors outfitted in baseball hats and with hockey sticks which was reminiscent of the 1979 film "The Warriors".
The Silver Skillet Restaurant in Atlanta was also featured in "Anchorman 2". The Silver Skillet is no stranger to films and fame. It has been featured in several films, including "The Real McCoy" and "Remember the Titans". The restaurant has also been featured on many major news channels and in national publications such as The New York Times and USA Today. The Silver Skillet was listed by Life Magazine for having one of the "5 Best Pies in the USA" which is their homemade Lemon Ice-Box pie.
Atlanta's Emory University, located in the Druid Hills suburb, got to be a part of "Anchorman 2" as well. Four of the Universities film studies majors even had the opportunity to spend a day as production assistants on set. It was reported that Emory's Briarcliff campus was selected due to the "period ambiance" of the mid-century modern architecture of Briarcliff Building A.
Atlanta is no stranger to being the stage for big films. Whether it's replacing another city (as it represents a 1980's New York City in "Anchorman 2"), or it's getting to be itself, Atlanta has seen some huge films come into town for filming. Besides the star power and hype surrounding "Anchorman 2", Atlanta has recently been a temporary home for the sets and stars of "Dumb and Dumber To", "Fast & Furious 7" and "Mockingjay", the third installment of the "Hunger Games" films.
All Rights Reserved
Southern Outdoor Cinema
Comments
comments