Ballparks are not just for watching baseball games in anymore. America's other favorite pastime, movie watching, is merging with sports stadiums, to host outdoor movies events. Outdoor movies in sports settings have been branded by our clients as Flicks on the Field, Movies on the Mound, Movies in the Outfield and Field of Screens.
Southern Outdoor Cinema and Twilight Features have partnered together to create www.FlicksOnTheField.com. Together the two companies, which produces of outdoor movie events, can create movies under the stars event to be presented in any athletic setting.
Ballparks, athletic fields (such as soccer and football) and stadiums are great family gathering places. During off season, Minor, and Major league baseball parks, NFL football stadiums, as well as Nascar and horse tracks can use outdoor movies events as a way to make money during periods when their stadiums are idle or closed. Outdoor movies at the ball park are a great way to develop relationships with your fan base during the off season such as FanFest events, Game Day Entertainment or any other special events.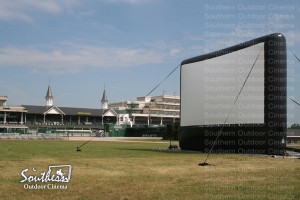 About Southern Outdoor Cinema
Southern Outdoor Cinema, located in Atlanta, Georgia, is one of the largest providers of mobile outdoor cinema services in the United States. Known for their high quality outdoor cinema services, they have been hired to work on high-profile events for clients such as several movie premiers for Hollywood and Film studios. Southern Outdoor Cinema owns and operates the Largest Inflatable Movie Screen in the South, which has hosted crowds of over 10,000 for an outdoor movie series in downtown Atlanta, GA and Sherwood Baptist's Freedom Festival. Southern Outdoor Cinema also created and implemented the Georgia Movies in the Park ™ series, an experiential mobile movie tour in North Georgia.
About Twilight Features
Twilight Features™, located in the Fort Lauderdale and Orlando, Florida, was produced over 500 events throughout the Southeast and more the 25 film festivals. Owner, Nick Toutoungi, a graduate from Florida State University, known for its Film program, has helped pioneer the outdoor movie industry. Mr. Toutoungi's professional experience includes working as the Senior Operating Director for the Fort Lauderdale International Film Festival, which is the longest film festival in the world, as well as creating the popular Maroone Moonlight Movie Series in South Florida.
Each company has hosted sound, projection and inflatable movie screen for hundreds of outdoor movie events in locations throughout Florida, Georgia, Alabama, Tennessee, South Carolina and North Carolina, including at stadiums, horse tracks and motor speedways. They are also equipped to handle nationwide mobile movie tours and multi-city events.
Press Inquires
www.FlicksOnTheField.com
Paul Murray / N. Florida, GA, NC, SC, TN, AL
Nick Toutoungi / South & Central FL
Comments
comments