Posted by
Paul Murray
on
Wednesday May 15, 2013
Under
Tips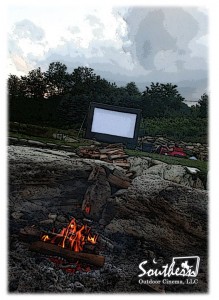 Swimming, bunking with new friends, enjoying the great outdoors. These are the kinds of things we associate with camp. We'd like to introduce a new tradition: big, beautifully projected, outdoor movies.
It may seem like an unusual combination at first glance. Isn't camping about getting away from it all, including technology?
But we enjoy being a little bold in that arena. Melding awesome activities with great movies is what we do. We're good at it, we really love it and, of course, our clients love it too.
Here are the top five reasons why it's a seriously fun idea to have an outdoor movie event at camp:
1) A "camp-in", as we like to call it, gives kids a taste of the creature comforts they miss from home. We understand putting a hiatus on cell phones, computer games and other devices that keeps us glued to screens and away from each other and the outdoors. But showing a movie is a great way to incorporate both.
Are your campers sleeping in tents? Here's a chance to show a big-screen movie as the last activity before vittles or bedtime.
Will you be having camp during the ultra-hot summer months where the kids are dying to be inside? Have an indoor movie event inside a large facility to beat the summer heat! The kids will have a movie theater experience at camp, which would be a blast for them and camp planners.
We've even had clients have a camp-in on the beach! For cool nights, our clients have improvised to stay toasty by building small campfires in drums.
2) Having a big movie event at camp can serve as a reward for a long day of activities. Depending on the type of camp you are operating, it seems pretty likely your kids will be totally tuckered out. A movie on our theater-quality projection screens is just the thing to surprise your campers and give them an opportunity to relax.
3) What would make for a great close-of-camp experience than to show a great flick? Perhaps this could be the last activity the campers can enjoy before going home. Or maybe this is an event where you can invite the kids' parents and other family members along.
Memorizing a farewell camp song or putting on an impromptu play for the grown-ups is fun, but treating them to a free movie is simply the ultimate thank-you.
4) If your movie ends up being a big event for more than just your campers, you can incorporate sponsors or have concessions open to raise money for the camp or alleviate the costs of screening. S'mores supplies for the campfire, hot dogs, popcorn, candy, cold beverages, you name it. These yummies can also be a reward to your campers!
5) Camp-ins are the ultimate opportunities to pull out classic camping flicks! Our favorite camp movies include: "The Parent Trap" (either version is awesome), "Camp Nowhere," "Space Camp" and "Heavyweights."
Having an outdoor (or indoor!) movie event at camp is ideal for local organizations, day camps, summer camps and neighborhood associations.
Did we forget any awesome camp movies? What would have been your favorite movie to watch when you went to camp? Talk to us on our Facebook page!
All Rights Reserved
Southern Outdoor Cinema
www.SouthernOutdoorCinema.com
Comments
comments