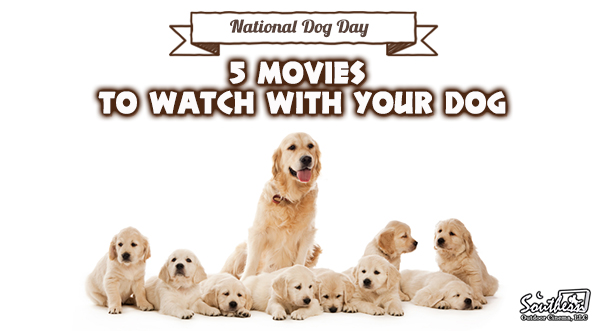 National Dog Day falls on August 26th each year and is used to recognize the many dogs that need rescuing as well as those dogs that are making a difference in people's lives each and every day. There are a number of great movies out that are perfect for celebrating National Dog Day and here a few great options to enjoy with your dog this year.
Firehouse Dog
Rex is living every dog's dream. He is one of the most wanted acting dogs in Hollywood and every kid in America loves him. Everything is going wonderfully for Rex until he is separated from his master and lost in the middle of nowhere. Assumed dead after a sky diving stunt goes terribly wrong, Rex is left to roam the streets in search of help. After a close call with animal control, Rex decides to hide out in a run down building that soon goes up in flames. He is rescued by Connor Fahey(Bruce Greenwood), father and former fire chief in a small-town firehouse. Shane Fahey (Josh Hutcherson) is the rebellious son of Connor and is given the responsibility of finding out who Rex belongs to. Over time, Rex and Shane develop a bond that soon becomes unbreakable, and Rex becomes the saving grace for both father and son, as well as for a firehouse that was in need of saving.
Marley and Me
Marley and Me stars Owen Wilson and Jennifer Aniston as the proud new owners of an adorable lab puppy. At least that's how the story begins. What the couple soon finds out is that their adorable little lab puppy is on his way to an astonishing 100 pounds of mischievous trouble who will eat anything he can get his teethe on. They learn all too quickly that life with Marley will be a challenge, but one that is worth every bit of the trouble that seems to come with him. This is a story of the bonds that develop between master and dog, and of how wonderful the friendship between the two can be.
Marmaduke
Owen Wilson is the voice of Marmaduke, a Great Dane on his way to California to enjoy more sun and surfing than he will know what to do with. Phil Winslow (Lee Pace) is an advertising executive who receives the job offer of a lifetime. He is tasked with the job of taking over the account of a California based dog food company and his wife, 3 children, and Marmaduke are coming along for the ride. After arriving in sunny California, Marmaduke makes friends with a group of mutts at the dog park and quickly learns how to surf. In fact, he learns to surf well enough to win the local area surfing competition. The only problem is that all of the fame goes to Marmaduke's head and he forgets who his real friends are. Watch as Marmaduke comes to terms with the true meaning of friendship and just how important his new friends are going to be in the hit movie Marmaduke.
Hotel For Dogs
16 year old Andi (Emma Roberts) and her younger brother Bruce (Jake T. Austin) are a couple of kids on a mission to provide a home for dozens of stray dogs in the area. When they find out that their own dog Friday no longer has a home to live in, they search for new living arrangements for him and stumble onto an abandoned nearby hotel that Bruce transforms it into a four-star getaway. The strays in town quickly move into the new doggy hotel and everything is going great until the neighbors begin to get suspicious. Andi and Bruce are forced to break out every trick they can think of to keep the neighbors away and keep the new doggy hotel open for business for good.
Air Bud
Air Bud is the story of Buddy, a talented dog, and a boy in desperate need of a friend. Snively (Michael Jeter) is a no talent clown who abandons his biggest asset Buddy after being upstaged by the dog one too many times. Buddy is a talented dog who can play basketball quite well. Josh (Kevin Zegers) is a young boy whose father has just died and who finds himself in a new town after his mother Jackie (Wendy Makkena) decides to move them to Washington. Josh and Buddy find each other one day and Josh takes Buddy in which is how the story behind Air Bud begins. Josh loves to play basketball but is too shy to try out for the team so he decides to help manage it instead. He decides to stay late one day to shoot some hoops and finds out that Buddy has a knack for the game. In fact, Buddy is better than anyone else on the team. After the coach finds out about Buddy's talent, he adds Buddy to the team roster and the excitement begins. Snively soon finds out about his old friend's talent and shows up in town to take Buddy back but quickly finds out that separating Josh and Buddy won't be an easy task.
__________________________________
About Southern Outdoor Cinema
Southern Outdoor Cinema, LLC, is the LARGEST producer of high quality outdoor movie events in the United States for movie studios, film festivals, marketing agencies, Fortune 500 Companies, schools and cities. Southern Outdoor Cinema produces extraordinary outdoor movie experiences with big screens and bright and colorful images so that your audience members feel like they are at a real Hollywood film premiere. Contact Southern Outdoor Cinema to receive a free consultation for your next special event.
Comments
comments