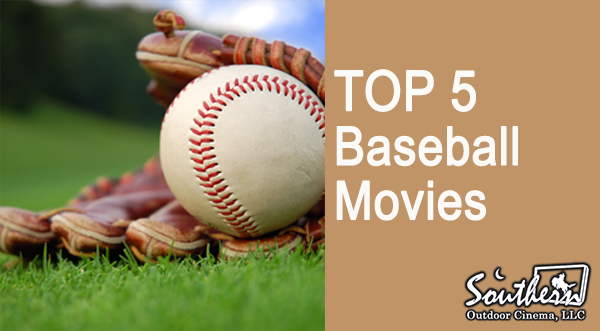 The World Series is the championship series of the North American – Major League Baseball (MLB) Association, played annually between the best of the American League and the best of the National League. There are quite a few great movies perfect to watch when getting ready for the World Series and here are 5 favorites.
Field of Dreams
Ray Kinsella (Kevin Costner) is the owner of a cornfield in Iowa, who finds himself building a baseball diamond smack dab in the middle of it. "If you build it, he will come." seems to be something that Ray is hearing quite often these days, which is what leads him to build the baseball diamond in the first place. Once the diamond is completed, Ray is visited by the ghost of former ballplayer Shoeless Joe Jackson (Ray Liotta), who graciously plays a few games with Ray on his new field. Ray first believes that the "he" in that all too familiar phrase is Joe, but he soon realizes that there is more to it than that. Ray begins hearing an additional phrase being "Ease his pain." which is what leads him to the conclusion that the new baseball diamond, in the middle of his cornfield, is there as a second chance for ballplayers who have had to make sacrifices throughout their lifetime. Players who gave up their passion for the game, in order to take on careers that would serve those around them, are approached by Ray and brought to the field to have another chance at enjoying the one thing that truly made them happy, baseball. Ray also realizes that the final individual needing a second chance is more a part of his life than he expected.
Angels in the Outfield
When Roger (Joseph Gordon-Levitt) is left at an orphanage by his father, and told that he will only return if the baseball team that Roger loves the most, the California Angels, is able to win the pennant, Roger is forced to take desperate measures. You see, the Angels are currently in last place and only a miracle will get them into a winning position. Roger prays for help and help arrives as a real angel named Al (Christopher Lloyd). Al lets Roger know that his prayers were heard, and that he and his Angel associates are there to get the losing team to the playoffs. Al also tells Roger that he cannot tell anyone about their assistance, but only after Roger slips the information to the always angry manager of the team (Danny Glover). Watch as the presence of real live angels not only gets a losing team into a position to win the pennant, but gives Roger a new outlook on what having a father in his life really means.
The Rookie
The Rookie is the story of Jim Morris (Dennis Quaid), a pitcher in the great state of Texas whose dreams are crushed after he suffers a very bad shoulder injury. Jim has since settled for working an average job teaching science to high school kids, coaching the high school baseball team and has married Lorri (Rachel Griffiths), his long time sweetheart. After going through corrective surgery, Jim comes to realize that he can now pitch the ball faster than he has ever been able to pitch it before. The high school baseball team goes through a fairly bad losing streak which is what leads them to the deal that they make with coach Morris. The deal states that Jim will give pro baseball one more try if the team is able to make it to the district championships. When the team miraculously gets to the championships, Jim is forced to keep up his end of the deal and shows up for tryouts. Nobody takes his being there seriously, but after throwing a number of fastballs clocked at almost 100 mph, Jim gets everyone's attention and begins living his dream once again.
Bad News Bears
Morris Buttermaker (Walter Matthau) is an experienced pool cleaner, but not so experienced baseball player, who finds himself with the responsibility of coaching a little league team. What Morris soon realizes is that this group of miniature misfits is going to be the biggest challenge of his life. Since catching a break, and being able to play a team equal in talentless abilities, doesn't seem to be in their future, Morris is forced to pull out the big guns. He brings two new players to the team who have the ability to change the outcome of the games that they play for the remainder of the season. Amanda (Tatum O'Neal) is a tomboy and the daughter of his ex-girlfriend, and Kelly (Jackie Earle Haley) is a talented athlete with a bad habit of smoking cigarettes and getting into trouble. With the teams two new additions, the Bears are able to break their terrible losing streak and make it to the championships where they meet up with the Yankees, the one team that they had hoped never to have to meet again.
The Natural
Robert Redford stars as Roy Hobbs, a young country boy with a talent for the game of baseball. Roy decides to take a chance on himself and grabs his baseball bat with the intent on making it to the city and in turn, to the big leagues. He draws the attention of certain individuals and is distracted from his goal when he meets Harriet Bird (Barbara Hershey) on his way to the city. Harriet invites Roy to a hotel room where he survives being shot in cold blood by the mysterious woman. Now fast forward 16 years to a much older and wiser Roy Hobbs. Roy is now 35 years old and still loves the game. He is also just as good at it and once again, Roy attracts the attention of a few individuals important to the game of baseball. He manages to make it to the starting lineup of the New York Knights, and quickly becomes the best player on the entire team. Roy is given the second chance that many others never see, and takes the opportunity to make up for his list of bad mistakes in life.
__________________________________
About Southern Outdoor Cinema
Southern Outdoor Cinema, LLC, is the LARGEST producer of high quality outdoor movie events in the United States for movie studios, film festivals, marketing agencies, Fortune 500 Companies, schools and cities. Southern Outdoor Cinema produces extraordinary outdoor movie experiences with big screens and bright and colorful images so that your audience members feel like they are at a real Hollywood film premiere. Contact Southern Outdoor Cinema to receive a free consultation for your next special event.
Comments
comments