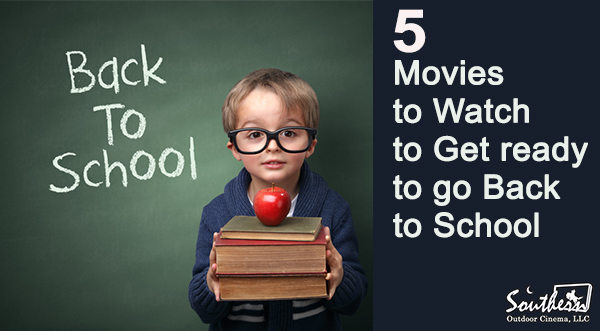 While going back to school can bring about a mixed basket of emotions, there is one way to get ready for the occasion quite effectively and that is to watch a great movie. Here are 5 great movies to get you ready to go back to school.
The Perks of Being a Wallflower
The Perks of Being a Wallflower stars Emma Watson, Logan Lerman, and Ezra Miller, and follows the trio through the unforgettable journey that is "growing up". It is the story of just how important friendship is, and of how hard it can be to get through all of life's obstacles without it. The Perks of Being a Wallflower shows us that true friendship will last through the ups and downs that come with growing up.
17 Again
Matthew Perry is Mike O' Donnell, a 30 something husband and father living a life that doesn't really fall under his category of dream lives. It's been nearly 20 years since Mike made a decision that put him on his current life course and miraculously, he is given a second chance to decide differently. Placed back in his 17 year old body (but in current 2009 rather than 1989), Mike finds himself back on the basketball court at high school and in line to be picked by several college recruiters. The question is, will he make the same choice and choose love and responsibility over an altered future that could easily change his present day situation forever? 17 Again is a story of choices, and just how important the one's that we make throughout life can be.
Ferris Bueller's Day Off
Matthew Broderick stars as Ferris Bueller, a high school legend who made his fame by successfully cutting classes more than any other individual in his high school. As graduation draws near, Ferris feels the need to successfully cut out of school one last time and he is determined to make it an occasion to remember. Watch as Ferris "borrows" a Ferrari and roams wild through the streets of Chicago with his two best friends, and watch as Principal Rooney (Jeffrey Jones) makes every attempt to catch up with them in the process.
Monsters University
Monsters University tells the story of friendship and how it can spring up between even the most unlikely individuals. James P. Sullivan and Mike Wazowski are a couple of monsters attending the local area Monsters University. When they first meet, it is quite obvious that they can't stand each other but things change and friendship grows creating an inseparable bond between Sully and Mike. Watch Monsters University and learn just what changed the lives of this monster pair forever.
The School of Rock
Dewey Finn (Jack Black) is an out of work heavy metal guitarist pushed to the edge when he is kicked out of his own band and replaced with a "would be" guitar god one day. After unsuccessfully winning the regional "battle of the bands", Dewey finds himself with no way to pay the bills. He manages to intercept a phone call for his roommate with an offer for a job as a substitute teacher at an elementary school for gifted kids. Dewey assumes the role of his roomie Ned (Mike White) with no experience in teaching elementary school aged kids whatsoever. Luckily for Dewey, his class of students are gifted in an area that he has a passion for and that is music. One thing leads to another and the kids form a band that lands Dewey right back at the regional "battle of the bands" once again. But will the all tween band have any chance at winning against Dewey's former band? The only way to find the answer to that question is to watch The School of Rock today.
__________________________________
About Southern Outdoor Cinema
Southern Outdoor Cinema, LLC, is the LARGEST producer of high quality outdoor movie events in the United States for movie studios, film festivals, marketing agencies, Fortune 500 Companies, schools and cities. Southern Outdoor Cinema produces extraordinary outdoor movie experiences with big screens and bright and colorful images so that your audience members feel like they are at a real Hollywood film premiere. Contact Southern Outdoor Cinema to receive a free consultation for your next special event.
Comments
comments