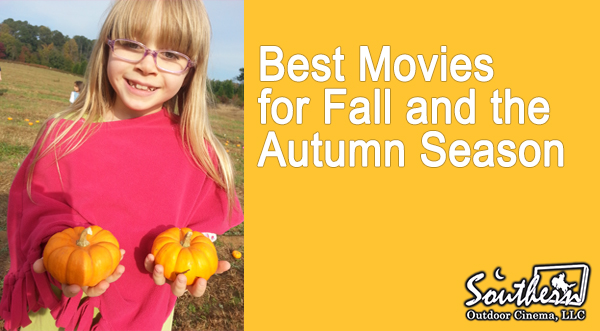 The fall season is brought in by the autumnal equinox and in 2014, this will occur late in the evening on September 22nd making September 23, 2014 the first full day of fall. There are a number of great movies to bring in the fall season and here are just a few of them.
Charlotte's Web

Fern Arable (Dakota Fanning) is a farmer's daughter who spends most of her free time with the animals on the family farm. She loves animals and when one of the sows on the farm gives birth to a bunch of little piglets, she is given the opportunity to raise the runt of the litter and she names him Wilbur (it's either raise the homely little pig or allow it to be disposed of). However, as Wilbur begins to get bigger, Fern's father (Kevin Anderson) decides to place him in the care of a neighboring farmer by the name of Homer Zuckerman (Gary Basaraba). Wilbur quickly makes friends with the rest of the animals on Zuckerman's farm who come to realize that unless they come up with a plan, Wilbur will end up being the next meal on someone's dinner table. A friendly spider on the farm, named Charlotte, comes up with a plan that includes weaving messages into her webs that include cute little words about Wilbur (the first word being "terrific"). As the rest of the farm animals join in on the plan, Wilbur becomes a celebrity in town, which is exactly what he needs if he is going to stay alive.
Babe
Babe is the story of a pig turned sheep dog (or if you prefer, sheep pig) who made the decision to learn how to herd sheep in order to stay off of the dinner table. You see, babe is separated from his family soon after he is born, and ends up on a nearby sheep farm. He is taken in by a friendly dog on the farm and it doesn't take Babe long to learn the ultimate fate of pigs. This is when Babe puts together his plan to become more useful on the farm, and what better way to make use of oneself on a sheep farm than to learn how to herd sheep. Despite doubts from the rest of the animals on the farm, Babe soon becomes one of the best sheep dogs (or sheep pigs) in town.
The Horse Whisperer
The Horse Whisperer helps to explain the connection between people and their pets even if that pet is a full grown horse. Grace Maclean (Scarlett Johansson) decides to go horseback riding with her best friend Judith one morning, and her life is changed forever. While enjoying the ride on this particular winter morning, the girl's horses slip on some ice and end up on the road where a tractor trailer jackknifes and kills Judith and her horse. Grace and her horse are not left unharmed as Grace loses her right leg and her horse, Pilgrim, remains traumatized from the incident. Grace's mother Annie Maclean (Kristin Scott Thomas) is a successful magazine editor who feels it necessary to take time off of work to focus on helping her daughter, and Pilgrim, to move on. She packs the family up and moves everyone to Montana for a change of scenery, and to seek help from horse whisperer Tom Booker (Robert Redford). Annie hears about Tom, and his gift, and decides that he just might be able to help his daughter and Pilgrim to move past the accident. This is where recovery begins not only for Pilgrim, but for a 14 year old girl who experiences how strong the connection can be between a girl and her best friend, even if that friend is a horse.
American Harvest
Wayne Rogers and Earl Holliman are neighboring farmers, in Kansas, living through a family feud that began a very long time ago. The two families haven't had a problem staying angry with each other, and avoiding one another, since the feud began, but things are about to change. You see, Wayne is in danger of losing his entire wheat farm, and the only way to avoid the situation is to patch things up with neighboring farmer Earl. The two men do a great job avoiding each other until the silliness begins to affect their lives in a very real way.
Old Yeller
Old Yeller is the story of a family in 1869 Texas, during a time when cattle were a very important part of the livelihood of ranchers in the area. 15 year old Travis Coates (Tommy Kirk) is left to handle managing things on the family farm while dad (Fess Parker) is away on a cattle drive. Travis's younger brother, Arliss (Kevin Corcoran), is placed under his care and decides to bring in a stray dog while dad is away. Travis doesn't like the idea at first, but quickly falls in love with Yeller. The fact that the dog is a great watchdog helps make it easier for dad to accept him when he gets back from his cattle drive. An unfortunate accident, with a bite from a mad wolf, leaves Yeller with rabies and although everything looks to be fine at first, the dog soon begins to become dangerous. Everyone knows that Yeller must be put down and what would be a very sad ending to a great movie is saved when Dad has a heart-to-heart talk with Travis and the family adopts a new puppy.
__________________________________
About Southern Outdoor Cinema
Southern Outdoor Cinema, LLC, is the LARGEST producer of high quality outdoor movie events in the United States for movie studios, film festivals, marketing agencies, Fortune 500 Companies, schools and cities. Southern Outdoor Cinema produces extraordinary outdoor movie experiences with big screens and bright and colorful images so that your audience members feel like they are at a real Hollywood film premiere. Contact Southern Outdoor Cinema to receive a free consultation for your next special event.
Comments
comments