Posted by
Paul Murray
on
Monday Oct 7, 2013
Under
Tips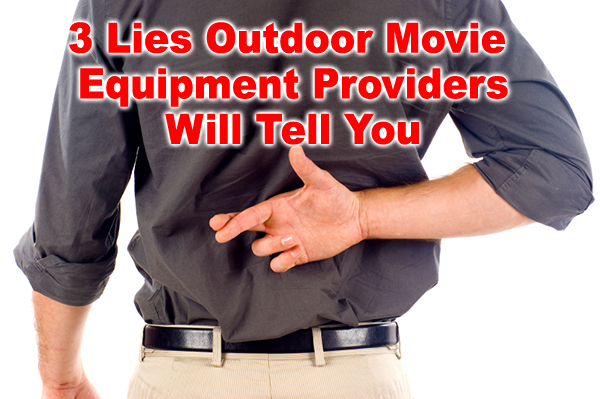 At some point in your life, you have probably heard someone say that if something sounds too good to be true it probably is. If you are planning outdoor movie night, you have probably seen companies advertising their services for $299 or even $199. This pricing probably looks attractive, but you might also be worried that it seems too good to be true. It is smart to be skeptical of this type of offer. The truth is, companies such as DJ services, bounce house rental companies and other "Mom and Pop" businesses typically only have one small, low quality screen in their inventory and add outdoor movies on inflatable movie screens as a side business.
In situations like this, misinformation is common. In some cases the company is simply misinformed, in other cases they might actually be trying to deceive you. In any case, there are 3 common lies an equipment provider will tell you that you should be aware of.
1. You Don't Need a License to Show a Movie Outdoors
Unless your movie event is in your own backyard, due to movie copyright laws, ALL outdoor movie events require a public performance license. Bargain outdoor movie companies will deceive you or omit this important information to make their package price low and attractive. They are telling you to break the law. If you are caught you can be fined up to $250,000 from the movie studios. Unfortunately, if you end up in this type of trouble the bargain price you paid for your event won't seem like such a great deal anymore.
2. We Carry General Liability Insurance
Avoiding copyright law trouble is not the only financial concern to consider as you plan your movie event. What about liability? Hopefully your event will go smoothly and you will not run into any problems, but what if, for example, your equipment provider causes damage to your venue while setting up for your movie night such as a stake hitting an underground power line? It is essential to choose an equipment provider with adequate liability insurance to protect yourself financially should anything go wrong at your event. Unfortunately, many small businesses with add-on outdoor movie screen rental services do not carry insurance for the outdoor movie part of their business. Considering the cost of a business general liability policies start in the multi-thousands of dollars, how can a company that offers their service for only $299 afford to carry this insurance?
3. Movie Start Time is at Sundown
Sundown is 30-40 minutes before dark. The majority of open air cinema providers cannot start an outdoor movie until it is completely dark out because they use underpowered projectors and cheap, see-through screens. There are only three professional inflatable movie screen systems on the market: Airscreen, Epic and Open Air Cinema. Chances are these small bounce house rental companies, DJ services and other small businesses operating out of their homes are not using a professional-grade screen, but rather a inexpensive, disposable inflatable movie screen meant for one-time personal use.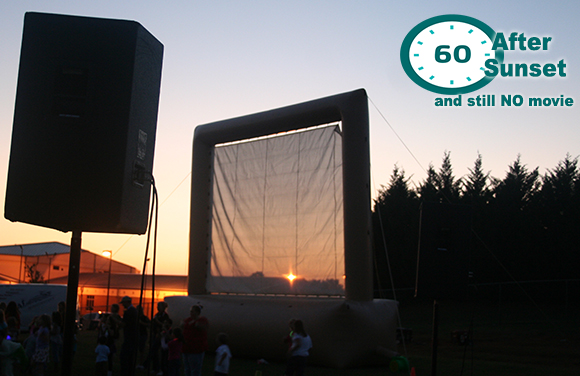 What is the bottom line? Do your homework. Ask for references when considering an equipment provider for your event. Be skeptical if their offer seems too good to be true or if outdoor movie services are not the primary business for the company. Ask to see a copy of their general liability insurance to verify proper coverage. Practicing due diligence and choosing a company with a good reputation that specializes in outdoor movie event production will protect you and make success more likely for your event.
Have you had a bad experience from an outdoor movie provider? Share them below in our comment box.
All Rights Reserved
Southern Outdoor Cinema, LLC
__________________________________
About Southern Outdoor Cinema
Southern Outdoor Cinema takes the stress and guess work out of hosting a movie theater-quality event outdoors and under the stars. Southern Outdoor Cinema doesn't just rent outdoor movie screen equipment, but instead we share nearly a decade of movie event production experience with our clients to help them produce outdoor movie nights that are extraordinary. For a free consultation contact Southern Outdoor Cinema at www.SouthernOutdoorCinema.com
Comments
comments