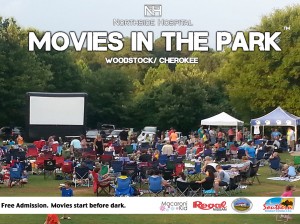 Georgia Movies in the Park™ – Atlanta's best family outdoor movie series returns to the Atlanta / North Georgia area. Presented by Northside Hospital and Southern Outdoor Cinema, Movies in the Park™ shows blockbuster films on huge inflatable movie screens in unique and historical locations. Movie start times are kid-friendly and begin at sundown not dark. Concessions and kids activities are available before the movie. Guests are encouraged to bring a lawn chair, blanket, and bug spray.
The series kicks off in historic Woodstock during the City's "Friday Night Live" event. Before the movie, take a stroll down Main Street and check out the local shops and restaurants or just watch the train roll into town.
Woodstock @ City Center Park
May 1 – Hunger Games: Mocking Jay Part 1
Oct 31 – Halloween themed movie
Dec 5 -Christmas themed movie
Sponsored by Northside Hospital Cherokee, Regal Nissan and Southern Outdoor Cinema.
For more information on free outdoor movies in Atlanta check out www.facebook.com/GaMoviesInThePark
Comments
comments