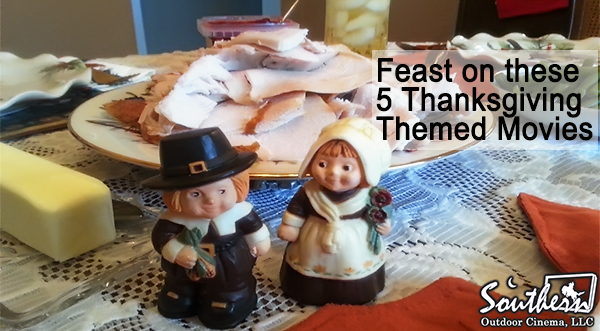 Thanksgiving Day falls on November 27th this year, and is celebrated both in the United States as well as in Canada. It is a special day that we set aside to be thankful for all of the blessings from the previous year. There are plenty of wonderful movies that work very well on Thanksgiving Day, and here are a few of the favorites.
Home for the Holidays
Home for the Holidays brings a reality to the movie screen that many face during the hectic holiday season with family. It stars Holly Hunter as Claudia Larson, your average hard working individual who loses her job right before the Thanksgiving holiday arrives. With plans to spend Thanksgiving with her family in Baltimore, Claudia begins to feel even more "on edge" than usual when going home for the holidays. Claudia's husband, Walter (Steve Guttenberg), is disliked by her brother Tommy (Robert Downey Jr.) who is openly homosexual, her daughter, Kitt (Claire Danes), is staying behind and has informed Claudia that she intends on losing her virginity to her boyfried, Claudia's sister, Joanne (Cynthia Stevenson), is stuck in a phase that nobody likes, and her aunt, Gladys (Geraldine Chaplin), has a bad habit of drinking too much when visiting and confesses her past lust for Claudia's father Henry (Charles Durning). Needless to say, Claudia can look forward to one of the most interesting Thanksgiving holidays she has ever been through.
Funny People
George Simmons (Adam Sandler) is a comic superstar with a talent for what he does. The only problem is that he finds out that he doesn't have much longer to enjoy doing it. You see, George finds out that he has a very rare blood disorder, very early on in the movie, and that it is very likely that he will die within a year. He decides to do something that he really enjoyed doing, and gets back into stand-up comedy. During one of his club performances, George meets a fellow stand-up comedian, Ira Wright (Seth Rogen), who is struggling to make it in the business. He notices something about Ira that he likes and decides to hire Ira as a personal assistant. He also tasks Ira with the job of writing the jokes that he will use for his performances. The relationship between the two starts out very well, and Ira is more than happy to be able to move off of his friend's pull-out sofa, and in with George. But things begin to change when Ira starts to see George for who he really is, an egocentric and very selfish individual.
Free Birds
Free birds is the animated tale of two turkeys who must learn to work together if they are to going to succeed at keeping turkeys' off of the holiday menu forever. This task will not be easy as the two turkey heroes are different in every way. However, they quickly learn that it is more important to put their differences aside and succeed, than it is to work individually and fail.
Planes, Trains, and Automobiles
While traveling back home to be with his family for the Thanksgiving holiday, Neal Page (Steve Martin) gets unexpectedly bumped from first-class to coach on his flight. He learns, all too quickly, that he will be seated next to Del Griffith (John Candy), an annoying salesman who he can't seem to get away from. It begins with a snowstorm that forces their plane to land in Wichita instead of Chicago, and continues with the lack of any rooms available in the four-star hotels in the area. With no other options to choose from, Neal is forced to stay with Del in one of the cheapest motels around. After a torturous and sleepless night, Neal blows his top, and has a few choice words for Del. Del responds with the all too familiar "your welcome anyway" speech which makes Neal feel as guilty as can be. Their journey continues with a bumpy train ride, and an even bumpier refrigerator truck ride, but Neal and Del are destined to be bosom buddies before the movie is over.
Pocahontas
Pocahontas tells the story of an Indian princess, and an English sailor, who share a forbidden love that everyone disagrees with, but no one can stop in the end. Capt. John Smith lands in the New World on a mission to plunder its riches, but ends up on a completely different mission of his own. Pocahontas is destined to marry the village's greatest warrior, but soon finds out that plans are meant to be changed. The two meet and begin a romance that seems to be wrong in every way. The only problem is that it feels nothing but right to them both.
__________________________________
About Southern Outdoor Cinema
Southern Outdoor Cinema, LLC, is the LARGEST producer of high quality outdoor movie events in the United States for movie studios, film festivals, marketing agencies, Fortune 500 Companies, schools and cities. Southern Outdoor Cinema produces extraordinary outdoor movie experiences with big screens and bright and colorful images so that your audience members feel like they are at a real Hollywood film premiere. Contact Southern Outdoor Cinema to receive a free consultation for your next special event.
Tags : Thanksgiving | Comments Off

on 5 Movies to Watch For Thanksgiving