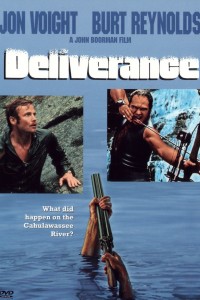 Released in 1972, 'Deliverance' is a thriller starring Jon Voight and Burt Reynolds. The film is based on the 1970 novel of the same name that was written by James Dickey. The screenplay was written by Dickey as well as an un-credited, John Boorman, who also directed the film. The film follows Lewis Medlock (played by Burt Reynolds) as he and his friends go on a river-rafting trip along the Cahulawassee River before it's turned into one huge lake. The trip ends up being one that they won't soon forget, as the urban men find themselves among the hostiles of the wild and the backwoods inhabitants they come across. The film was set in Georgia and was also mostly filmed in Georgia.
In Rabun County, Georgia, much of 'Deliverance' was filmed in and along the Chattooga River, which played the fictional, Cahulawassee River in the movie. In 2012, the area held a festival to raise conservation awareness of the river. The festival was also to commemorate the 40 year anniversary of the film. While many people think the film was one of the best things to happen to the area, others were left thinking the opposite. Some people were not pleased with the way that the area natives were portrayed in the film. The river defines the state border with South Carolina and flows into Lake Tugaloo. The section of the river that was used during filming is roughly the 10-mile stretch south from Earl's Ford Road, and runs beneath Highway 76, Lookout Mountain Scenic Highway and to Lake Tugaloo.
Scenes from 'Deliverance' were also filmed at Tallulah Gorge, which is downstream from Tallulah Falls. Located at 338 Jane Hurt Yarn Rd in Tallulah Falls, Georgia, the gorge is a couple miles west of Tugaloo Lake and is about two miles long. It is 1,000 feet deep and includes hiking trails and several overlooks. Tallulah Gorge is just southeast of Clayton, Georgia. One of the scenes filmed here is when of one of the characters scaling a cliff in order to confront some of the "inbred" inhabitants.
'Deliverance' was the highest grossing film of 1972. It was very well received by critics and received three Academy Award nominations, which were for Best Picture, Best Director, and Best Film Editing. In 2008, the film was selected for preservation in the United States National Film Registry by the Library of Congress. It was selected based on being "culturally, historically, or aesthetically significant".
'Deliverance' is currently available on both Blu-ray and DVD.
_____________
All Rights Reserved
Southern Outdoor Cinema
Southern Outdoor Cinema of Atlanta, creates extraordinary outdoor movie events that captures all the senses of their client's audience while recreating the nostalgic feeling of a close knit community gathering. For a free event consultation contact Southern Outdoor Cinema at www.SouthernOutdoorCinema.com
Tags : Deliverance | Comments Off

on 'Deliverance' Filmed in Georgia