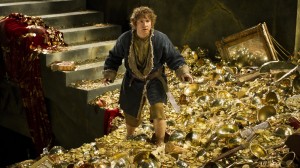 While sitting and chatting with Gandalf the Grey, at the Inn of the Prancing Pony, Thorin Oakenshield (hopeful King of the dwarves) is given information that could change the outcome of events that will not take place for another year. These events involve 13 dwarves, Bilbo Baggins (the hobbit) and the wizard on a perilous journey to take back the city of Erebor. What makes things even worse is that the very same dragon who drove every single dwarf alive out of the city is more than likely the very same foe that they will face on this journey.
It seems as though Smaug may be working for an even greater enemy than he himself made for the dwarves in the first film. It is made quite clear to Thorin that his ultimate quest will be to defeat the dragon and to reclaim the mountain. What isn't made clear, at that time, is all of the dangerous situations that they will have to face in order to reach their destination.
The group barely escapes a band of orcs by hiding out in the home of a shape-shifter named Beorn, they avoid becoming a nest of spiders' next meal but only after being captured by Mirkwood's army of wild wood elves, and they manage to escape from the elves by floating down a river in giant empty barrels while still being hunted by the very same orcs who have been chasing them since their journey first began. Their escape route out of Thranduil's forest kingdom leads them into a rundown trading center named Lake Town where life is based on prophecies that speak of dwarves arriving to bring the town new life. Even more importantly is the piece of the prophecy that speaks of the town's wealth being restored as a result.
The question is, can this group of dwarves be the same dwarves mentioned in the prophecy? And if they are, how will they ever defeat the bloodthirsty orcs while dealing with Smaug (the dragon) who sits waiting for them at their final destination?
Positive Elements
There is a steady theme of courage throughout the entire film that seems to begin with the most unlikely of characters, Bilbo. Bilbo rescues the group from ultimate peril on more than one occasion, but others follow suit as the movie progresses. This courage doesn't end with Bilbo and the dwarves. In fact, a man in Lake Town named Bard risks not only his life, but the life of his family to sneak the dwarves in and help them with their mission.
Even two of the elves (Legolas and Tauriel) find themselves getting involved in more ways than they could have ever imagined. It is Tauriel, however, who takes the first step and offers their expertise to the much appreciative elves. She ends up using her healing powers to help save a dying dwarf before the movie comes to an end. Together, the two elves take on a good portion of the pursuing band of evil orcs.
While Gandalf might seem to be distracted throughout much of the movie, it is only because he is involved in the fight in ways that the group could never comprehend. You see, it seems as though the Necromancer is back and Gandalf feels that he must fight this battle alone. He does receive help from another wizard named Radagast who Gandalf forces to turn around just before he enters the castle Dol Guldur where he faces the evil within. Unfortunately, this may be a bite too big for Gandalf to chew.
Sexual Content
It is Tauriel who seems to be the center of attraction throughout the movie. While she is in love with Legolas (against the wishes of his father, Thranduil), Kili seems to have a major crush on her as well. He flirts with Tauriel after being captured by asking her if she is going to search him. He states that he could be carrying anything down his trousers at which Tauriel replies, "or nothing". Tauriel does begin to show signs of having a crush of Kili towards the end of the movie.
Violent Content
An encounter with the giant spiders of Mirkwood proves to be quite extreme. We are even provided a detailed description of their thoughts just as they are about to eat the entire group. Their thoughts included two things in particular, fat and juicy. It is Bilbo who comes to the rescue by slicing and dicing several spiders with his trusty blade. The dwarves tare the legs off of one spider before killing it.
Even before their encounter with the spiders is their encounter with Beorn, the shapeshifter. It is the troop of orcs who suffers dearly as we see several decapitations and even more death shots by arrow. There is definitely no shortage of sword fights either.
There is one scene in particular where Thranduil, the elfen King, takes the head off of a captured orc. Even more orcs are cut open and shot with arrows during the dwarf's escape down the river. The band of orcs don't give up easily and follow the dwarves all the way to Lake Town where even more of them fall prey to the lethal elfen duo.
Drug and Alcohol Content
The movie begins at the Prancing Pony where nearly everyone is found drinking ale. Many are found smoking on pipes as well. The dwarves are able to escape from the elves simply because they drank too much of their home made wine and passed out. Brandy seems to be a favorite of the master of Lake Town.
Conclusion
There is no stronger message throughout the movie than that of the message of how good will always prevail against evil. Yes, there is plenty of evil in this second of the Hobbit movies but as with the first, it only lasts for but a moment. Keep in mind, however, that this is also a very violent movie indeed.
That being said, there are numerous differences between the book version and the movie version with this particular story. Much of the violent scenes, as well as those of a sexual nature, are nowhere to be found in the book versions. This takes nothing from the overall excitement that is just waiting to be found in The Hobbit: The Desolation of Smaug.
For those who enjoy action packed fantasy films, this one is sure to please any crowd. There is definitely no shortage whatsoever in that area. So the underlying question becomes how do parents come to a conclusion on whether or not to allow their children to sit through so much in the area of slaughtered orcs? Unfortunately, that is a question that will need to be answered by each parent individually.

____________________
All Rights Reserved
Southern Outdoor Cinema
About Paul B. Murray
Paul is founder of Southern Outdoor Cinema, an outdoor cinema event production company based in Atlanta and a dad to 2 pre-teen girls. When he is is not traveling to create outdoor movie nights for communities, he is spending time playing board games, reading books and of course watching movies with his girls.
Tags : The Hobbit | Comments Off

on The Hobbit: The Desolation of Smaug – Parent Movie Review