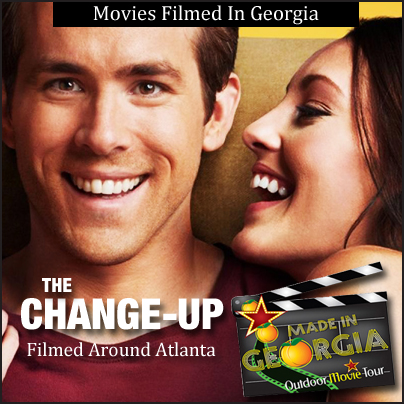 'The Change-Up' starring Jason Bateman and Ryan Reynolds was filmed entirely in Georgia. The film is about two friends, Dave and Mitch who are jealous of each other's lives. Dave is married to a beautiful, loving woman and has two kids, while Mitch is single and seems to get any woman whenever he wants. On a fateful night, the two are urinating in a fountain and simultaneously wish for the other's life. They wake up the next day realizing they have switched bodies. It's like a raunchy 'Freaky Friday' for grown-ups and comes with an R-rating. The film also stars Olivia Wilde and Leslie Mann and was released in 2011. 'The Change-Up' is set in Atlanta and was filmed at several locations in and around the city.
In Alpharetta, Georgia the cast and crew of 'The Change-Up' went to the North Point Mall to do some filming. In the mall's parking lot, the crew created their own thunderstorm for the scene as it required rain. This location was used for the re-discovery of the fateful fountain scene in the movie. One of the film's stars, Ryan Reynolds was seen one day during filming having lunch at Davio's Northern Italian Steakhouse located in the mall. The mall is located at 1000 North Point Circle.
In Atlanta, many local and popular locations can be seen in 'The Change-Up'. Several bar scenes were filmed at Joe's on Jupiter, including a scene where the main characters are watching a Braves game. Joe's on Jupiter is located at 1049 Juniper Street. The fountain scene where the main characters, Dave and Mitch urinate together and cause their bodies to be switched, was shot in Woodruff Park. The scenes that took place at Dave's home were shot a local resident's home in the Buckhead area. The Georgia Aquarium was featured in the film during a scene where Dave (in Mitch's body), gets high and decides to wander around the aquarium. Turner Field is also seen in the movie when Mitch (in Dave's body), and Olivia Wilde's character go to a Braves game. Former Braves pitcher, John Smoltz has a cameo. The ballroom located in the Georgian Terrace Hotel filled in as the Plantation Oaks Country Club for the movie, where a country club party scene was filmed. Phipps Plaza makes an appearance in the film as well. Two Atlanta restaurants, Ecco and Abattoir both had scenes filmed at their locations. Also, at the historic Piedmont Park located at 1320 Monroe Dr, the movie's final scene, Dave and his wife's anniversary party, was filmed.
'The Change-Up' is currently available on Blu-ray and DVD as well as digital download.
_____________
All Rights Reserved
Southern Outdoor Cinema
Southern Outdoor Cinema of Atlanta, creates extraordinary outdoor movie events that captures all the senses of their client's audience while recreating the nostalgic feeling of a close knit community gathering. For a free event consultation contact Southern Outdoor Cinema at www.SouthernOutdoorCinema.com
Tags : 'The Change-Up' | Comments Off

on 'The Change-Up' Filmed in Georgia