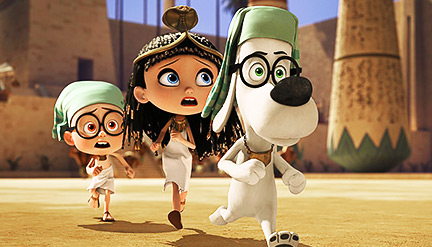 Mr. Peabody & Sherman – Parent Movie Review by Southern Outdoor Cinema
MPAA RATING: PG
GENRE: Animated / Children
Mr. Peabody and Sherman are quite the unlikely pair. Mr. Peabody is just your above average dog and Sherman is his adopted son. Nothing special, right? Wrong! It seems as though the fact that a dog is caring for a little boy isn't all that is unusual about this situation. Even more unusual is the fact that Mr. Peabody, and his son Sherman, have spent their fair share of time traveling back and forth in time with the help of a handy little machine that they call the Wayback machine.
Sherman debates whether or not George Washington's little experience with the cherry tree was fact or fiction while in class one day and it wasn't simply because he had read up on the subject. It was more because of the fact that he has spent quite a bit of quality time with George personally. In fact, Sherman turns out to be quite the history buff thanks to his handy little Wayback machine.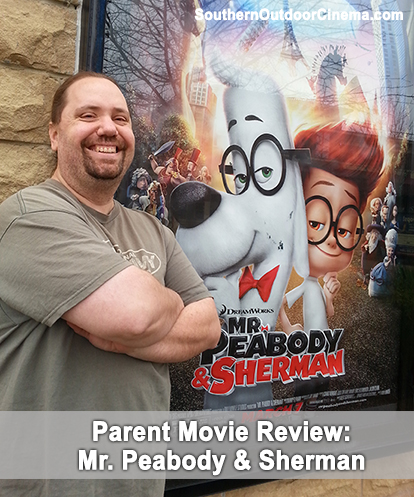 The only problem is that his history debate with little Penny leads to a curiosity that ends up biting Sherman right in the behind, but only after he bites Penny first. You see, Penny decides to question Sherman after their little debate, and shares a few thoughts with him concerning whether, or not, he might be a dog just like his dad. That single moment ends up being the beginning of an adventure that brings Sherman and Penny much closer than Sherman would have ever imagined.
After Sherman bites Penny, he and dad get an unexpected visit from Ms. Grunion, a representative of Social Services. Her biggest problem with the relationship between Mr. Peabody and Sherman is the fact that a dog is caring for a little boy. That is when Peabody comes up with the idea of throwing a nice little dinner party in hopes that it will get Ms. Grunion off of his tail. He decides to invite Penny and her parents to the party as well.
The dinner party starts out very well, and everyone seems to be enjoying themselves, right up until the moment that Penny begins asking Sherman to elaborate on his thoughts concerning George Washington. She manages to get Sherman so flustered with the question that he slips up and mentions the Wayback machine. If that weren't bad enough, Penny decides that she won't let up until she gets to try the machine out for herself.
One thing leads to another and Penny winds up being stuck, alone, in ancient Egypt. While Mr. Peabody and Sherman have initial thoughts of leaving Penny to figure out how to get back on her own, they realize all too quickly that Penny's mom and dad might have a problem with leaving, after the party has ended, without their daughter. So Mr. Peabody does what dads do best and protects his son by saving his new little friend before everyone has finished dessert.
Positive Elements
Sherman seems to be quite the average 7 year old boy. All he wants is to make a few new friends, and spend as much time as he can away from his dad as possible. Mr. Peabody eventually comes to the realization that Sherman can handle much more than he imagined but only after Sherman comes to realize that he needs his dad more than he could have ever imagined. It is a mutual understanding that brings the father/son duo closer as the movie progresses.
There is a pretty steady theme going on throughout the movie and it is one of a father's undying love for his son. There isn't a thing that Mr. Peabody wouldn't do for Sherman and he spends the majority of the movie proving that to be very true. He eventually shows a little frustration over Sherman's irresponsibility but Sherman figures out that for the most part, dad really does have his well being in mind.
Another positive area is in the friendship that develops between Penny and Sherman. It may, or may not, have something to do with the fact that Sherman saves Penny's life more than once during the movie. The bottom line is that the two might not have hated each other when the movie first began but the definitely liked each other quite a bit by the time the movie ended.
Sexual Elements
When present Sherman and future Sherman get very close to bumping into each other, Mr. Peabody must come to the rescue as always. He tells present Sherman that he must get him out of there before he 'touches' himself. He warns Sherman to be careful not to get caught up in any booby traps at which Sherman responds, "You said booby"! Mr. Peabody has an accident in which his head ends up going through a painting of a woman, right in the area of her very definitive cleavage.
When Penny gets stuck in ancient Egypt, she nearly ends up married to a very young King Tut. She is rescued, by Sherman, just in the nick of time. A Greek soldier kisses a woman after carrying her into the past.
Violent Elements
There is a good amount of smacks, slaps and shoves throughout the movie. Even worse is the extreme violence that Mr. Peabody, Sherman and Penny witness at different points in historical time. This is probably due to the fact that the aforementioned points in historical time include Greece during the battle with the Trojans, Paris during the French Revolution and Egypt when trying to escape from King Tut and his army.
Drug and Alcohol Elements
Mr. Peabody comes up with an apparent alcoholic concoction during the dinner party. He calls it an "Einstein on the Beach" which is coincidentally very close to the alcoholic beverage "Sex on the Beach"
Conclusion
It simply wouldn't be right if we didn't mention the fact that the Wayback machine wasn't the only thing about Mr. Peabody & Sherman that had anything to do with history. While the youngsters will more than likely be clueless concerning The Rocky & Bullwinkle Show, mom and dad will know exactly where this movie originated. It kept much of the original thematic tone in tact while making it enjoyable for both young and old.
With that being said, the theme of family and friendship steadily grew as the movie progressed. The relationship between Mr. Peabody & Sherman is one that many will be able to relate to today. It shows the unconditional love of a father for his son, and the constantly growing love of a son for his loving, caring step father. It shows us just how important the relationship between father and child can be in the development of a child.
Mr. Peabody & Sherman isn't likely to go down in the history books as a "Classic Movie" to watch over and over again. However, it carries with it a pleasantly positive message that any family could benefit from. Even with the violent content, it is a movie that could be enjoyed by the entire family.
____________________
All Rights Reserved
Southern Outdoor Cinema
About Paul B. Murray
Paul is founder of Southern Outdoor Cinema, an outdoor cinema event production company based in Atlanta and a dad to 2 pre-teen girls. When he is is not traveling to create outdoor movie nights for communities, he is spending time playing board games, reading books and of course watching movies with his girls.
Tags : movie review, mr. peabody and sherman | Comments Off

on Parent Movie Review – Mr. Peabody & Sherman | Southern Outdoor Cinema