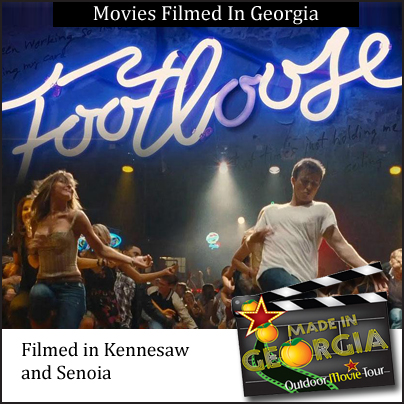 'Footloose' starring Julianne Hough, Kenny Wormald and Dennis Quaid is a remake of the 1984 film by the same title that starred Kevin Bacon. The movie is about Ren (played by Womrald), a Boston born and raised teen who moves to a small town where rock and roll music and dancing is banned. Ren and his rebellious nature eventually shake things up in the town. 'Footloose' was originally set in a fictional Tennessee town as the movie was going to be filmed in Tennesse. However, Georgia ended up winning in a battle over filming locations and the fictional town in 'Footloose' became Bormont, Georgia.
In Acworth, the Acworth Presbyterian Church was used as the church of Bormont where Dennis Quaid's character, Reverend Moore, is the minister. Several pivotal scenes of the movie were filmed at the church, including when Reverend Moore pushes for the ban on dancing and where Ren and Julianne Hough's character, Ariel first meet. The Acworth Presbyterian Church was built shortly after the Civil War and in 2011, they celebrated their 140th anniversary. A home on Northside Drive near the church was used for the home of Reverend Moore and Ariel, who is the minister's daughter. The home belongs to Acworth's Mayor and his wife. The home owners had to vacate their home during the 18-day shoot and the Mayor's wife was featured as an extra during one of the church scenes.
The Newton County Historic Courthouse in Covington can be seen in the film as the courthouse used for a court room scene. The courthouse was used during a three-day shoot, which did cause traffic issues and detours for city commuters. Filming at the courthouse brought in thousands of dollars for Covington. The rental fee for using the courthouse was $13,500. Many locals were got to play extras during the filming. Downtown Covington is also used as the town of Mystic Falls in the CW's 'Vampire Diaries'.
Other Georgia locations used for filming 'Footloose' include the Cowboys nightclub at 1750 N Roberts Road in Kennesaw, which was used for a scene where some of the characters in the movie go to let loose at a dance club, and the New Senoia Raceway at 171 Brown Road in Senoia. The Starlight Six Drive-In on Mooreland Ave SE Atlanta can also be seen in the film as a local drive-in where the teens in the town sometimes go to dance at night . Also, the Bostwick Cotton Gin in the small town of Bostwick was used as the grain mill that Ren gets a part time job at and later is the setting of the prom finale.
'Footloose' was released in theaters in October 2011 and is currently available on Blu-ray and DVD.
_____________
All Rights Reserved
Southern Outdoor Cinema
Southern Outdoor Cinema of Atlanta, creates extraordinary outdoor movie events that captures all the senses of their client's audience while recreating the nostalgic feeling of a close knit community gathering. For a free event consultation contact Southern Outdoor Cinema at www.SouthernOutdoorCinema.com
Tags : Footloose | Comments Off

on 'Footloose' Starring Julianne Hough, Filmed in Georgia