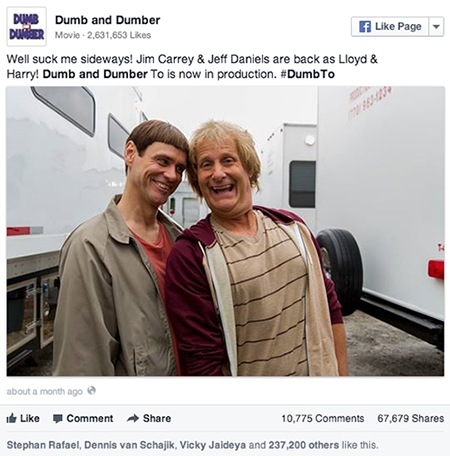 For "Dumb and Dumber" fans, the news that a sequel, "Dumb and Dumber To," is set to premier in 2014 is very exciting. However, the excitement about "Dumb and Dumber To" filming is not limited just to movie fans; residents of Atlanta, GA, and nearby Grantville are enjoying the benefits of this movie being filmed in their neighborhood.
"Dumb and Dumber To" is set to be released in the summer of 2014, 20 years after the release of the original "Dumb and Dumber" back in 1994. The Farrelly brothers, Bobby and Peter, wrote and directed the first film and will be working on the sequel as co-directors and co-producers. Lately, the film industry has been booming around Atlanta and the Farrelly brothers are familiar with the area as well. They shot "Hall Pass" and "The Three Stooges" in Atlanta.
A lot of filming for this movie is taking place in Cabbagetown, which is located on the East side of Atlanta. Making Cabbagetown look like Rhode Island for filming is a big task. The film crew has been hard at work transforming several blocks of Cabbagetown for use in the movie.
Several movies are filming around Atlanta this fall. "Dumb and Dumber To, " "Mockingay," the third movie in the "Hunger Games" series, and "Fast and Furious 7" are all currently in the works in the Atlanta, GA area. Local residents seem to be enjoying the excitement and the economic benefits that come along with all of this movie action. Crew members and actors frequent local businesses during filming and locals are hired to work on the sets.
The film industry around Atlanta is taking off, and it is good news for local residents. When "Dumb and Dumber To" hits theaters in 2014, "Dumb and Dumber" and Farrelly brothers fans won't be the only viewers who are especially excited to see this new movie; residents of Cabbagetown and Grantville will also enjoy a special connection with this film. If you live near one of these filming areas, be sure to pay close attention when watching "Dumb and Dumber To" and look for familiar places.
All Rights Served
Southern Outdoor Cinema, LLC
Tags : Georgia Film, Made In Georgia, movies | Comments Off

on Jim Carrey, Jeff Daniels Filming Dumb And Dumber 2 In Atlanta