"The Last of the Mohicans" was filmed back in 1992, but the movie, which is set in the late 18th Century during the French and Indian War, still holds a very special place in the hearts of movie fans and North Carolina residents. The movie was filmed in several locations around the Ashville, North Carolina area, including Chimney Rock State Park, the Biltmore Estate, Manor Inn Apartments, DuPont State Forest, Lake James and several other locations.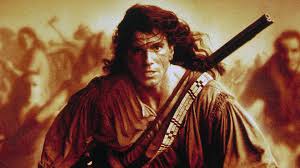 "The Last of the Mohicans" takes place during the war between the French and the British for control of North America. Native Americans regularly provided aid during this war. The movie is the story of a Native American tribe with only two members remaining, plus a white man that had been adopted and raised as a Mohican. The man becomes involved with a British officer's daughter, which creates trouble for both the man and the British officer.
The story is set in upstate New York in the Adirondack Mountains, but the Blue Ridge Mountains in North Carolina provide the perfect backdrop for the story in "The Last of the Mohicans". Fort William Henry, for example, is actually located near Lake George in New York, but Lake James is used for the location in the movie. The final scenes of the movie were filmed in Chimney Rock State Park. A set of an Indian Village was built in the park for filming. The nearby Hickory Nut Falls were also used for filming several scenes.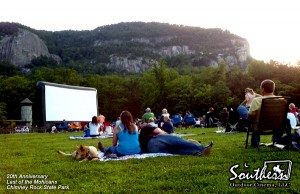 Whether you are a local Asheville, North Carolina resident or a tourist, visiting some of the beautiful filming locations from "The Last of the Mohicans" is a fun and memorable experience. Chimney Rock State Park and Southern Outdoor Cinema partner together each year to produce an open air cinema experience showing "The Last of the Mohicans" where it was filmed. Guests enjoy a unique experience and watch the movie with the picturesque park in the background.
In addition to the movie screening, guests can choose to arrive early and enjoy guided one-hour hikes to see filming locations. Entertainment, movie merchandise sales, and concessions are also offered during this annual event. If you are in the area, consider attending this unique outdoor movie screening. If you decide to visit Chimney Rock State Park at another time, maps are available with filming location information available to help you find the places you are looking for.
All Rights Reserved
Southern Outdoor Cinema
Tags : chimney rock, last of the mohicans, outdoor movie | 1 comment