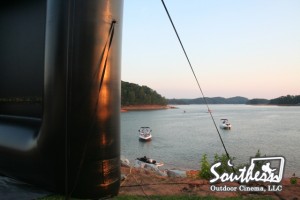 After a comfortable, although warm, day of sunning, swimming and sailing, summer boaters watch for the sunset and head home.
But what if you're wanting to have more fun and still can't get enough of the water?
We're sure you know where we're going with this: a movie by the sea, of course!
Also known as a "boat-in", marinas, boat clubs, city offices, power plants and homeowners' associations enjoy this additional layer of event planning when it comes to outdoor celebrations.
These clients imagine docking their boats along the bank, gathering their friends and family and enjoying a big-screen movie.
To accommodate a larger crowd, we can set up the movie much like our regular outdoor movie events. Landlubbers can get a great view of the water and enjoy a big-screen movie! (Don't forget to bring the lawn chairs, bug spray and picnics!)
Memorial Day has come and gone, and the official summer season has begun. But imagine the close of a fourth of July celebration with fireworks and a patriotic flick?
Or how about a neighborhood summer party by the lake? Complete with vendors and children's activities? There are so many possibilities that could be combined with our professional turnkey system.
Much like our poolside movie events, putting together a state-of-the-art, cinema-quality outdoor movie of this magnitude means an emphasis on safety.
As always, we enjoy sharing expert tips on using our outdoor movie rental company, especially in a location most folks wouldn't think to set up a theater.
Here are a few things to keep in mind when planning a boat-in movie event:
1) It's crucial to know the rules and regulations of setting up when planning this kind of event. Be sure boaters are aware of the current docking rules before the event begins.
2.) We utilize a no-splash zone for events around the water. It's important to let attendees know of the set up to keep everyone safe.
3.) Remember to encourage family-friendly food and drinks for a boat-in. That means no glass bottles, grilling safety rules and, of course, no alcohol. Many marinas already enforce these types of rules!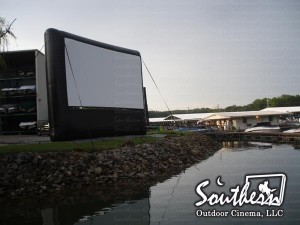 Here are three family-friendly movies to fit the boating and water themes and great party ideas from our Pinterest boards:
Finding Nemo – Check out these really creative Finding Nemo party ideas!
The Little Mermaid – Yep, we have an idea board for this classic Disney movie, too.
Pirates of the Caribbean series – Who doesn't want to be a pirate? (Well, unless you want to be a ninja.) Here arrrrr some festive party ideas. (We had to do it!)
Other great watery flicks that are great for family viewing include: Shark Tale, Free Willy and Splash.
Check out another one of our YouTube videos to fuel your imagination of a boat-in movie event.
What would you be doing on the water the day before an outdoor movie? Let us know in the comments or our Facebook page!
All Rights Reserved
Southern Outdoor Cinema
www.SouthernOutdoorCinema.com
Tags : boat in, Event Planning, inflatable movie screen, lake, marina, outdoor movie, Outdoor Movie Event | Comments Off

on Boat-In Movie: When A Day of Sailing Isn't Enough