Posted by
Paul Murray
on
Wednesday Apr 17, 2013
Under
Tips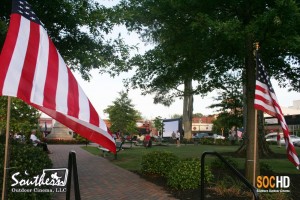 "Outside of downtown, yes. But not outside and downtown!"
This was one funny response when we posed this question via social media: "Have you attended movies downtown?"
Chambers of Commerce and downtown development districts typically host outdoor movies during the summer months, so it's time to start prepping!
Though we did find a few folks who have never attended a movie downtown, we also found a lot of folks who have.
Are you thinking about hosting a movie at a downtown location?
Here are tips from attendees to make sure you have a successful event and how we can help.
"I'm not really an outdoorsy kind of gal so as a reader, I'd like to read something that would convince me to give it a try."
That's right. Print media can assist in getting your event known. Contact local newspapers (along with radio and TV stations) to get the word out about your event. SOC is always a phone call away to assist with your event marketing.
"Be weather prepared and bug proof. Can you bring a picnic?"
Make sure you suggest bringing comfy chairs, blankets and bug spray for the summer. Have food and water available or allow moviegoers to bring some sustenance for the warm summer movie showing.
"I'd say set up early and do a dry run of playing the movie to be sure everything is okay before the set movie time."
No problem! We always set up during the day where there's still ambient light. This allows for any technical difficulties to be hashed out, and folks can get comfy without worrying about the dark.
Another awesome benefit: if you get sponsors, their ads can be shown on the screens before the movie starts.
Here are some of our tips and benefits to putting together a downtown movie event.
1) If you're a shop owner, you can work together with other businesses to pool together for funds. Then you can advertise on our screens before the event!
2) Smaller screens are utilized well here. This allows more space for seating and makes the event ever so cozy.
3) If space is an issue, consider setting up in a store parking lot. Careful! Asphalt can get hot during the summer months. Also be sure to hash out proper permission to use parking lots.
4) So your downtown area tends to clear out after 5 p.m.? This is the best way to keep folks in town after work. Get the word out early and organize outdoor store sales or other special activities before and after the movie to keep the people flowing.
For other ideas and tips for hosting downtown-area outdoor movies, check out our other blog posts related to these events.
All Rights Reserved
Southern Outdoor Cinema
www.SouthernOutdoorCinema.com
Tags : downtown, downtown redevelopment, Event Planning, experiential marketing, movie night, movies, movies under the stars, outdoor movie, Outdoor Movie Event, outdoor movie night, Pre-Event Planning, southern outdoor cinema | Comments Off

on Tips on Hosting a Smooth Downtown Movie Event