As winter approaches, it is sometimes hard to let go of the beautiful summer weather and the outdoor fun that comes along with it, but winter offers equally wonderful ways to enjoy fun times and create special memories with family and friends. Beautiful snow and winter holidays offer opportunities for family fun. Winter cinema is a great way to turn a festive holiday event, like a tree lighting ceremony, into a complete holiday experience.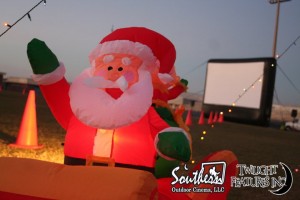 Many towns host annual holiday events like a tree lighting or holiday parade for community members to enjoy. After the holiday parade downtown or proceeding the tree lighting ceremony in the square, continue the festivities with a winter cinema. A family movie will add to the holiday cheer at the event and provide a full evening of family friendly fun. Show a movie like Elf, Arthur Christmas or Polar Express, or consider showing short cartoons like "How the Grinch Stole Christmas". The winter cinema event might be hosted by a downtown business or redevelopment district, a shopping or retail center, or a school.
Here are some additional tips for making a winter cinema event a success.
Food
The right food will add a festive touch to your holiday themed event. Try gingerbread cookies and hot cocoa, and perhaps set up a campfire for making s'mores. The warm treats and the campfire will provide warmth during the winter event and add to the holiday cheer.
Decorations
Decorations create a festive atmosphere. Christmas lights will add to the cheerful mood and provide necessary lighting, and a snow machine is a great way to add ambiance. Inflatable decorations such as a reindeer or snowman will also add a fun touch.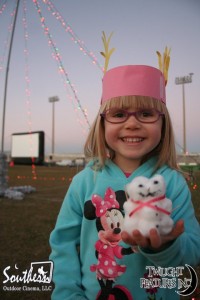 Activities for Kids
Offering activities for kids is a great touch at family oriented events. Face painting is always a great choice; a selection of Christmas or holiday themed designs would be perfect for this type of event. Holiday or winter themed crafts are another excellent choice. Crafts are fun, keep children busy and provide something special for kids to take home and help them remember the special event. Provide the materials for children to build a snowman with marshmallows or cotton balls, or have children create reindeer head pieces. Children will stay occupied and have fun, while parents enjoy a chance to relax and socialize.
Charity
Embrace the spirit of giving by including an opportunity to help a charity at the winter cinema event. There are many charities to consider; perhaps choose a local charity with ties to the community. Consider having a "Toys for Tots" drop box or collecting coats to donate to those in need. A non-perishable food drive to collect food for holiday meals is another excellent option.
Local holiday traditions are important in communities. Adding winter cinema to an annual holiday event is a great way to take a favorite local tradition, like the annual tree lighting, and turn it into an even more memorable community experience.
All Rights Reserved
Copyright 2006-2012
Southern Outdoor Cinema
###
Want to use this article on your website or your own blog? Here's what you MUST include:
Southern Outdoor Cinema is the largest producer of high quality outdoor movie events in the country. We don't just rent inflatable movie screens. Instead SOC shares nearly a decade of expertise with our clients so that they have an EXTRAORDINARY outdoor movie event which is EASY and STRESS-FREE to organize. To begin planning your outdoor movie event contact Southern Outdoor Cinema at www.SouthernOutdoorCinema.com or visit our Facebook page at www.facebook.com/SouthernOutdoorCinema for daily outdoor movie tips.

Tags : christmas, downtown, grinch, outdoor movie, season, winter cinema | Comments Off

on Winter Cinema: Show A Holiday Themed Movie Downtown