Last spring, Oprah Winfrey traveled to Kingsland, Georgia with two acclaimed matchmakers to kick-off a 30-day social experiment challenging residents to focus on building love in their community. The town's efforts are the focus of a new series, "Lovetown, USA," premiering on OWN: Oprah Winfrey Network. During one of the reality tv show's segments, an outdoor movie event was hosted for the community. The couples that the show follows on dates attend an outdoor movie night with the community.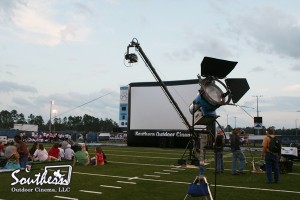 Producers of the show were exploring ideas and events that would bring the community together and thought an outdoor movie event would be a perfect fit for the show. The show, produced by the Oprah Winfrey Network and BBC America, called upon the outdoor movie company, Southern Outdoor Cinema of Forsyth County to put together the outdoor movie aspect of the reality show. This is not the first time Hollywood has called upon Southern Outdoor Cinema for their expertise. Southern Outdoor Cinema has worked on a movie premier for Warner Brothers Studios as well as produced outdoor movie events for Sherwood Pictures, creatures of the faith-based films Facing the Giants and Courageous.
Paul Murray, owner of Southern Outdoor Cinema and his crew traveled to Kingsland, Georgia for a day shoot this past spring. A giant 43′ inflatable movie screen was installed on location of the shoot at a high school.
The segment featuring Southern Outdoor Cinema airs this Sunday, Sept 2nd at 10pm EST on (OWN) Oprah Winfrey Network.
All Rights Reserved
Copyright 2006-2012
Southern Outdoor Cinema
###
Want to use this article on your website or your own blog? Here's what you MUST include:
Southern Outdoor Cinema is the largest producer of high quality outdoor movie events in the country. We don't just rent inflatable movie screens. Instead SOC shares nearly a decade of expertise with our clients so that they have an EXTRAORDINARY outdoor movie event which is EASY and STRESS-FREE to organize. To begin planning your outdoor movie event contact Southern Outdoor Cinema at www.SouthernOutdoorCinema.com or visit our Facebook page at www.facebook.com/SouthernOutdoorCinema for daily outdoor movie tips.

Tags : movie in the park, oprah, outdoor movie, reality tv | Comments Off

on Southern Outdoor Cinema Provides Outdoor Movie Experience for New Reality Show "Lovetown, USA."